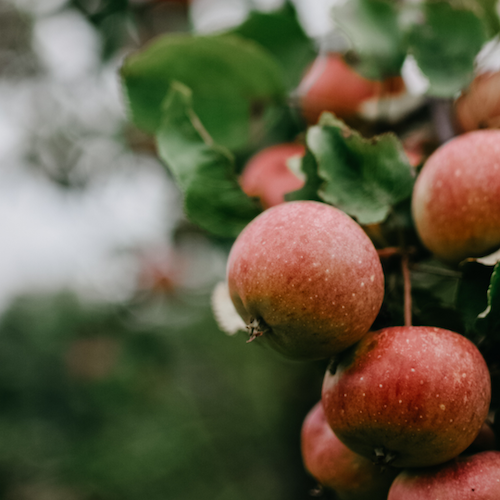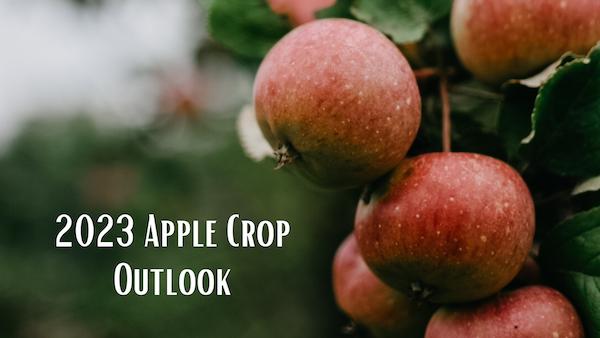 It's time once again to share what we've heard from extension agents and orchardists around the country about this year's apple crop outlook. Initial reports are from May-July of 2023.
Renae Moran, University of Maine
May 24: Temperatures were above normal going into winter, but no damage has been seen to occur from the midwinter low of -17 to -25 °F in early February. Reports from northern Maine are not yet available.
A warm spell in April caused an early start to the growing season, so green tip occurred about two weeks earlier than anticipated in southern Maine. Cool temperature followed this initial early start. Consequently, bloom occurred only one week earlier than anticipated. May 18, temperatures dropped to the lethal point during bloom and ranged from 24 to 30 °F depending on location within the state and orchard elevation. Higher elevations had better flower survival than lower spots. Western Maine had greater flower mortality, 90 to 100%, than eastern orchards, 10 to 20%.
Pollination conditions were fair, but the cool temperatures are expected to favor fruit set.
No major issues with disease or pests have occurred by this time of petal fall.
Sherif M. Sherif – Virginia Tech
June 1: The apple crop in Virginia for 2023 exhibited unique characteristics compared to previous years. One notable aspect was the early bloom, occurring approximately 10 days earlier than in 2022 and representing the earliest bloom in the past six years. This early development was likely influenced by the unusually warm winter experienced in the region. However, the early bloom was met with a series of frost events that had severe consequences for fruit trees across the state, including apples, peaches, cherries, apricots, and plums. The frost events occurred in March and April, with temperatures as low as 18°F recorded in some locations, including Winchester, VA. The damage caused by these freezing temperatures was significant, particularly affecting the apple cultivars that were transitioning from half-inch green to tight clusters. Observations collected after the first freeze on March 20th indicated severe damage to both king and side blooms, with an alarming 87% flower damage in king blooms and 60% damage in side blooms for popular varieties like Pink Lady and Gala.
Despite the detrimental effects of the frost events, the overall apple fruit crops for most cultivars in Virginia were not significantly impacted. In fact, fruit thinning applications were necessary in many parts of the state to optimize crop loads. However, the warm winter also resulted in sporadic blooming, extending over a prolonged period for certain cultivars that are not typically known for such blooming patterns, e.g. Gala. The sporadic blooming led to a unique situation where apple trees carried two distinct crops, differing in size by almost 9mm. This posed challenges for thinning decisions, particularly during the usual thinning window of 6-18mm.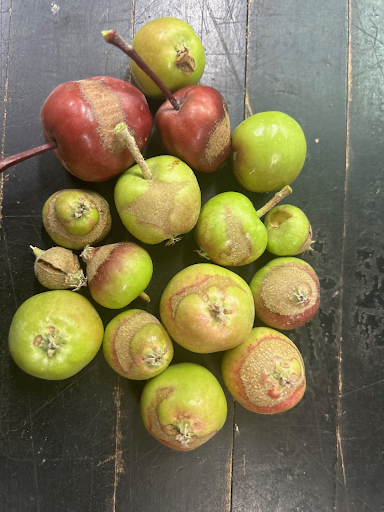 Despite the challenges posed by the frost events and the complexities in thinning decisions, it is anticipated that a full crop of apples will be achieved in most parts of Virginia. However, the quality of the fruit may be compromised in certain regions due to the frost damage (see picture attached for frost rings on apple fruits) and ineffective thinning practices. Nevertheless, operations that successfully implemented appropriate thinning strategies and employed hand thinning techniques are expected to yield above-average fruit size, particularly for cultivars like Gala, Pink Lady, and other small-sized varieties.
In conclusion, the 2023 apple crop season in Virginia was characterized by an early bloom, severe frost events, and sporadic blooming patterns. Despite the damage caused by frost, most apple cultivars are expected to produce a full crop, although fruit quality issues may arise in some areas. The challenges associated with thinning decisions due to the varying fruit sizes further added complexity to the season. However, growers who made effective thinning decisions and implemented appropriate techniques are likely to achieve above-average fruit size for specific cultivars, contributing to a successful apple crop in Virginia.
Nikki Rothwell – Michigan State University
June 22: The apple crop in Michigan is looking pretty good. We had good pollination weather, and although the winter was mild, we didn't have any spring frost/freeze events that impacted the crop. We had good thinning weather, maybe a touch hot, but most growers had good thinning efficacy. We have been hot and dry, so growers without irrigation may struggle with fruit size. However, the weather is supposed to be cooler and have more moisture next week, so we have a long way to go to measure size. We had some cider varieties that had fire blight, more than I have seen in the past. Growers are pruning out the strikes and applying copper to keep the spread to a minimum.
Overall, growers are optimistic about apples in Michigan. We have the potential to have very high quality, and fungal disease pressure has been low because of the hot and dry weather. We are keeping an eye out for summer rots with the warm temperatures but have not seen any hint of those diseases thus far.
Jake Mann – Five Mile Orchards, California
June 27: The 2022 harvest was our biggest yet… great yield overall, and the addition of a new-to-us ranch with lots of McIntosh, Fuji, and Spitzenberg sent more fruit (and juice) to cideries throughout California. Our picking crew was fantastic, moving through the blocks quickly, while the weather remained agreeable through the fall. We seeded more acres in cover crop this year… the bell beans / vetch / peas germinated and were ready to take off when spring warmed up.
But before that… the rainfall this winter was massive. Maybe 150% of what used to be "normal" before all the drought years. We wore rubber boots for the Wassail party (not so common out here) You've likely seen the reports of devastation caused by flooding in nearby Pajero (a major farmworker housing community) here in Watsonville. Some corners of our orchards flooded, but fortunately drained quickly, hopefully avoiding long term damage to the trees (looks good so far). In between the storms, we accumulated plenty of chilling hours. All signs were pointing to a good year.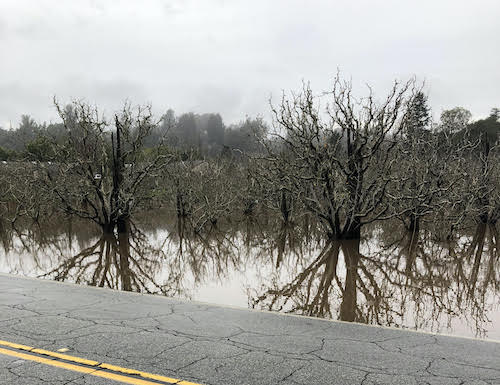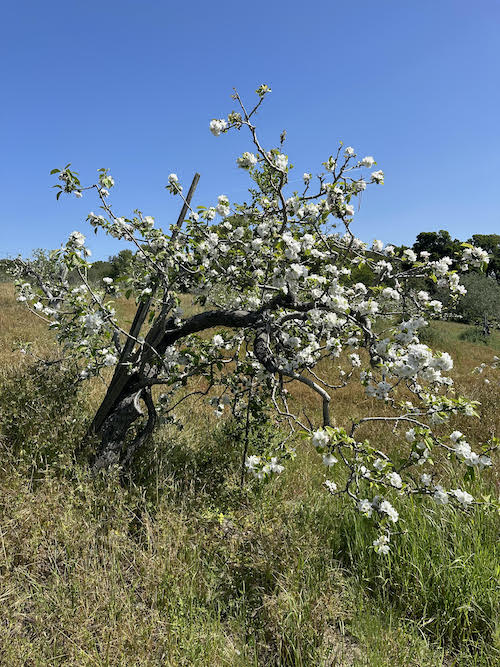 The bloom was promising in some blocks, a bit light in others. Bees were working during blossom time despite cooler temps, but as the petals fell and fruitlets started to stick, it became apparent we're entering one of the lowest production years we've seen in a decade. Red Delicious (not something we use for our cider accounts) are very sparse (harvest strategy will have to be creative as our regular contract picking setup won't pan out with the current density). McIntosh set is light but starting to size up. Pippins, Mutsu, and Fuji set is decent. Aphid has done a real number on the Granny Smith, unfortunately, and the cool temps seemed to keep lady bugs away in that crucial first week of activity. Starting to see new leaf growth beyond the aphid damage which is a relief. On a better note, the dry-farm Gravenstein orchard we take care of has the best set in the 4 years we've been working with it. (Good news for fans of Grav ciders).
We'll be dialing back the irrigation efforts / hours this summer due to the accumulated rainfall. Hoping our mild, foggy weather keeps things mellow though the next couple months. Ripening is looking 2+ weeks later than normal.
Seth Brawner – WSU's Northwestern Washington Research and Extension Center (NWREC)
April/May: This year in western Washington, spring weather was atypical – April was uncharacteristically cool and wet, while May was uncharacteristically warm and dry. Uncommonly, temperatures stayed almost completely below 60 °F until the end of April, when a heat event caused increasing temperatures (even briefly into the 70s °F) between April 27th and May 3rd. Yet overall, April was very cool. Olympia and Seattle experienced the coolest and second coolest Aprils, respectively, in the last 80 years. These low April temperatures seemed to have delayed bud development and, consequently, the date of full bloom. Hence, much of the orchard (planted with 65+ varieties) reached full bloom a little later this year, closer to mid-May rather than early May such as in the past. This will subsequently delay the time of harvest this Fall.
After an uncommonly cool April, the heat event in the beginning of May was followed by another period of cool temperatures that lasted until mid-May. These cool temperatures helped to prolong the blooming period. However, a higher heat event (high 80s °F) in mid-May and subsequent high temperatures in the latter half of May quickly reduced the effective bloom period. This May ended up being the second warmest May the Seattle area has experienced in the last 80 years. The abnormally cool, and then warm, temperatures this Spring have influenced and adjusted the full bloom date and bloom length this year. Due to the delay in bloom and subsequent high heat event which effectively ended the bloom period, these weather patterns may have a slight negative effect on pollination, fruit set, and final yields.
June: Now that we are almost into July, we can more clearly see what our crop outlook will be like this fall. While there is much variation within the orchard, this is generally the "off" year in the tree's biennial cycle. Therefore, fruit set is relatively low compared to last season. Additionally, this year we saw the presence of tent caterpillars throughout the orchard; these pests were not present in the orchard last season. Some cultivars, those that are strongly biennial, have no fruit this season. The following list includes cultivars in which all 6 trees in the orchard had no fruit this season, or so few fruit as to be inconsequential: 'Amere de Berthcourt', 'Brown Thorn', 'Brown's Apple', 'Blanc Mollet', 'Breakwell Seedling', 'Bulmer's Norman', 'Domaines', 'Ellis Bitter', 'Medaille D'Or', 'Mettais', 'Smith's Cider', 'Sweet Coppin, and 'Vilberie'. Popular cider cultivars such as 'Golden Russet', 'Harrison', 'Hewes Virginia Crab', 'Kingston Black', 'Porter's Perfection', 'Ashmead's Kernal', 'Roxbury Russet', and 'Frequin Rouge' all have a full apple crop load this season which needed to be thinned out. Although temperature and precipitation conditions this spring were not ideal, it seems that the apple crop load in our orchard was not severely affected. Looking forward to a great harvest this fall!
Greg Peck (Cornell University) and Scott Ramsey (New York Cider Association)
July 17: For cider apple growers in New York, 2023 was set up to be a banner year. Many orchards that had been planted over the past 10 years were finally expected to be in full production. Although the early parts of the 2022-2023 winter had above average temperatures, a relatively cold April held back bloom enough so that most regions in the state had fairly average full bloom dates. After Spongy moths, fire blight, and biennial bearing all coincided to reduce yields for many growers in 2021 and 2022, there was a tremendous bloom on cider apple trees in 2023.
Unfortunately, cold temperatures returned with a vengeance on 18 May. Most regions of the state experienced temperatures below freezing, with some locations getting into the mid-20's. Trees in bloom or with small fruitlets experienced a range of damage from outright crop failure to varying levels of fruit loss and fruit peel damage. The damage was state-wide, but site specific. Orchards in close proximity to large bodies of water, such as Lake Ontario, one of the Finger Lakes, or the Hudson River, reported the least amount of damage. The 18 May event really drives home the importance of site selection in developing a sustainable cider apple orchard.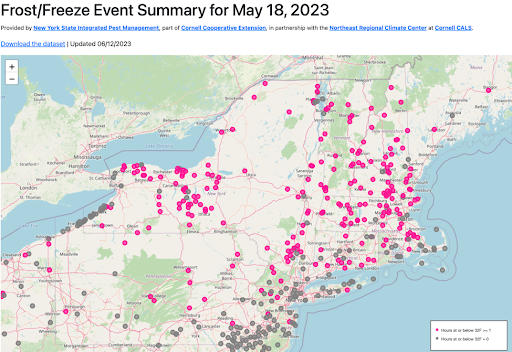 You can learn more about the frost/freeze event by visiting: https://data.nysipm.org/weather-events/20230518/map.html. This resource developed by Dan Olmstead who is the Project Lead for the Network for Environment and Weather Applications (NEWA), which is the regional mesonet system.
In response to the freeze events the New York Cider Association and Cornell co-hosted a listening session and are currently pursuing support for the cider industry through state and federal programs. Although it's too early to fully get a sense of the varieties that fared better in the frost/freeze event, it does appear that some of the later blooming cider apples that had yet to bloom will have at least a partial crop.
To date, there hasn't been a statewide survey for the apple industry at-large, much less for cider apple growers, there will still be many apples available for cider production. In fact, fresh-market apples that are unsellable through mainstream markets because of peel blemishes can still be used for cider production.
After the 18 May event, much of the state experienced dry conditions through the end of June, and then frequent precipitation occurred for the last few weeks. In mid-July, parts of the state experienced a "once in a thousand years" rain event that caused widespread damage to crops and infrastructure. It is too early to comment on the effects this will have on apple production, particularly in the Hudson River Valley where 8 inches of rain was reported in just six hours.
Additionally, smoke from fires in Quebec, British Columbia, and elsewhere have caused repeated air quality issues in New York. Although there might be some reduction in photosynthesis from the smoke, there should be minimal impact on apple productivity or fruit quality. However, the smoke is a significant health hazard for farm workers.
Despite the hardship that these weather and largely climate change driven events have on individual farms and cider producers, there are many producers in the state that have reported having minimal damage. In particular, growers close to Lake Ontario, one of Finger Lakes, or the Hudson River Valley have so far been spared significant crop damage. Even though crop yields and cider production will be down this year, we are hopeful that 2023 will produce some excellent New York ciders.
Megan Muehlbauer – Rutgers University
July 31: The 2023 growing season has been very variable across New Jersey. A late season frost caused extensive damage to the apple crop in the Northern half of the state. However, many growers unaffected by the frost are anticipating a bumper crop.
The season kicked off with very little rain, and by mid summer the state had a number of heavy rain events.
Thus far diseases have been minimal or well controlled.