Certified Pommelier™ Exam to Be Held in San Francisco August 13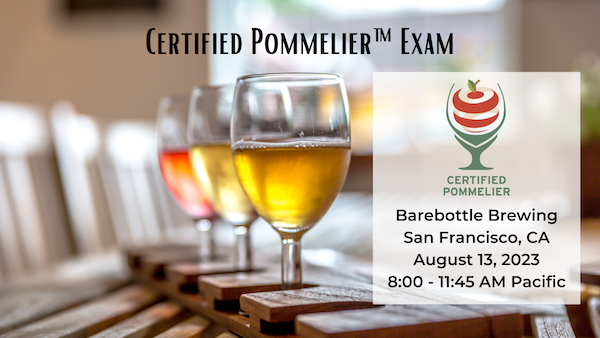 TAKE THE CERTIFIED POMMELIER™ EXAM IN SAN FRANCISCO, CALIFORNIA!
Are you ready to take the next step in your professional development in the cider industry? Already passed the Certified Cider Professional Level 1 Certification and looking for that next challenge? Now's your chance!
The American Cider Association is pleased to announce that the next Certified Pommelier™ Exam will be held in San Francisco, California! The exam will take place Sunday, August 13, 2023 at Barebottle Brewing, 1525 Cortland Ave, San Francisco, CA 94110.
After the exam you can stick around for a tour and tasting at Barebottle Brewing too!
PREPARING FOR THE CERTIFIED POMMELIER™ EXAM
The Certified Pommelier™ Exam is our second tier of certification and requires in depth study. You must have passed our CCP Level One Certification prior to taking the Certified Pommelier™ Exam. You can purchase a CCP Level One bundle here. (ACA members can find a discount code to purchase the bundle here). The bundle includes an on demand training webinar, a study guide, and two exam attempts.
The ACA has also recently released a Certified Pommelier™ Study Guide that covers the information needed for the theory portion of the exam. It can be purchased here on Amazon.
In addition, several pre-recorded sensory webinars are also available for purchase and can be found here. Please be aware that cider must be purchased separately. Also, be aware that key sensory elements of these ciders may vary from year to year.
Stay tuned for the option to participate in a live sensory analysis webinar this summer prior to the exam in San Francisco. You can check our certification page for the latest news.
WHILE YOU'RE IN SAN FRANCISCO
Why not make it a weekend (or longer) since you'll be heading to the beautiful Bay Area of California anyway, especially since it's the weekend of the Gravenstein Apple Fair, which will be celebrating it's 50th year!