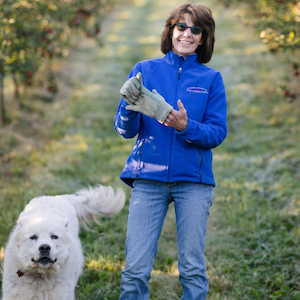 Deirdre Birmingham and her husband John started their orchard in 2003 in Wisconsin for the purpose of making cider and apple brandy. So she focuses on growing organically English and French cider apples with tannins to make The Cider Farm line of ciders and apple brandy as well as products made with their apple brandy. They have a cidery and tasting room in nearby Madison, Wisconsin, where she serves part-time and hosts classes on ciders and cocktails. They are active in supporting the cider-industry whether in Wisconsin or through membership in the ACA.
Deirdre became a Certified Pommelier to further her knowledge and appreciation for all things cider and to be able to communicate and demonstrate that accurately to others at whatever level of knowledge or interest they have. She started her journey in 2003 in the orchard, or more accurately by learning to graft so they had the English and French tannic apple varieties they wanted to start their orchard; that was the only way to get them then. She also tried to find and learn from those growing true cider apples and making fine ciders. An educator at heart, by training and experience, Deirdre loves to share her passion for the organic production of these unusual yet challenging apple varieties and how they drink in the glass. And she does that in the orchard every year throughout the growing season and then through classes during the winter at their cidery and tasting room. While she likes to share in the glass the terroir of the beautiful Driftless region of Wisconsin where they grow their apples, she enjoys helping others explore the big universe of ciders from the US, Europe and beyond.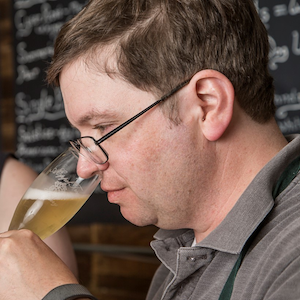 Charles McGonegal started AEppelTreow Winery (pronounced "apple true") in 2001 as an elaborate ploy to buy his wife more jewelry.  And that's what he keeps telling her.  Starting with a biochemistry degree from Michigan Technological University, a modicum of food analytical chemistry experience, a burgeoning relationship with a grower of heirloom apples, and carboy of insanity, Charles leveraged a basement cider operation into the smallest nationally distributed cider brand.  Mr. McGonegal practices an esoteric branch of cidermaking; growing traditional bittersweet European cider cultivars and perry pears and exercising the fine art of the methode champenoise.  His pursuit of 'building cider from the ground up' has even led him into the labyrinthine mysteries of the USDA Quarantine System, from which he has emerged with even more hard to grow – but flavorful – apples and pears.  Charles has been an active participant in the developing American cider community, as Vice President of the Great Lakes Cider and Perry Association, judge-educator for the Great Lakes International Cider and Perry Competition, contributor to the BJCP Cider Style Guidelines and presenting at cider seminars in Michigan, Pennsylvania and Virginia.  In 2009, AEppelTreow branched into the world of nano-distilling.  In his spare time, Charles is employed as a chemist at a Chicago-area petrochem research company where he entertains his co-workers with amazing tricks in MS Excel, has presented informatics philosophy and implementation to the National Conference of the American Chemical Society and scribbles on the backs of his 15 patents in reactive chromatography and high-throughput catalyst screening.  Indeed, only Charles' boundless modesty keeps him from world domination.