Delicious Cocktail Concoctions for Dry Cider July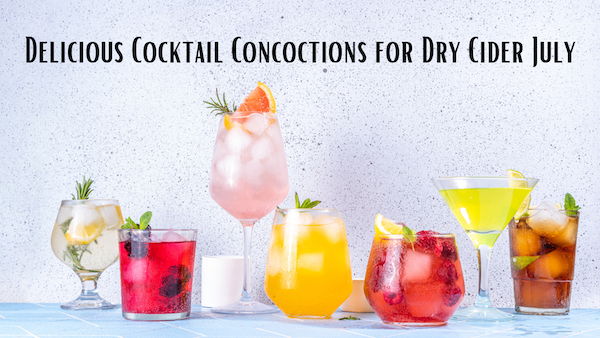 Summer is my favorite time of year for cocktails, from lazy beach days to backyard barbecues, or just relaxing under the warm sun, every activity is ripe with cocktail possibilities. It doesn't hurt that we are surrounded by fresh juicy berries, crisp veggies, and citrus galore. I can think of no better way to enjoy the bounty of the season than to create dry cider cocktails for any palate.
Basic Rules for Cocktails
When it comes to creating your own cocktail recipes, there are a few basic rules that can really up your game.
The 3 Ingredient Formula: Classic cocktails tend to follow a similar and reproducible 3 "ingredient" formula. Base liquor, ingredients to add sweetness, acidity, or both, and then your extras. The goal of the 3 ingredient formula is to create the perfect trifecta of balance and to be a building block for endless cocktail variations.
Ice: Should your drink be shaken, stirred, or built? Should your drink be served up or on the rocks? The accepted "rule" is to shake if there is citrus in the cocktail, and to stir if the cocktail is spirit heavy. Built cocktails, also known as mixed drinks tend to be one liquor and one mixer with no added acid or sweet ingredients.
Ratios: As for ratios, I like to start by considering the "golden rule" or 2:1:1. That is 2 parts spirit to 1 part sweet and 1 part sour. While I do use the word "rule", I do say that with a grain of salt. These are more guidelines than hard and fast rules and are meant simply as a starting point for your cocktail constructions.
How Dry Cider Fits In
Now that we have our basic cocktail formula down, we can start to piece in cider to our formula. There are a few basic parameters to help in choosing just the right cider.
First, we can break any cider down into its base components: Sweetness/ Acidity/ Tannin
Because we are looking for cocktails using only dry cider, that leaves us with the following 4 categories.
Dry high acid, high tannin
Dry low acid, low tannin
Dry low acid, high tannin
Dry high acid, low tannin
Along with these categories, be sure to also consider fruitiness or perceived sweetness in the cider.
Next, we can break a cider down even further into basic mouthfeel and flavor categories. This would include whether it is still or sparkling, barrel aged or not. We could even dive as deep as pinpointing its most expressive flavor elements, but to be honest, we don't even need to go that far to make delicious cider cocktails.
Now we have our basic cocktail rules and we have our basic cider components we can start to construct some delicious cocktails. I started my list by venturing out to the local farmers market. I was struck by the number of delicious fruits, berries and cucumbers and even fresh eggs that caught my eye. This was the inspiration for these true summer cocktails.
White Linen a.k.a Cucumber Gin Fizz
This cocktail is a refreshing crowd pleaser.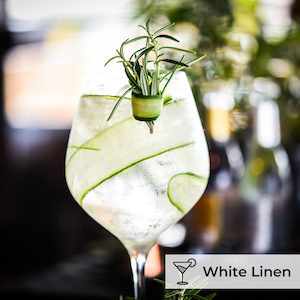 1.5 oz. gin
.5 oz. St. Germain
Cucumber
Fresh lemon juice
.5 oz. simple syrup
Saline spray (optional)
Top with a dry floral cider
Cucumber ribbons for garnish
Muddle cucumber in a shaker, add gin ( I like Hendricks in this application), St. Germain, simple syrup, and fresh lemon juice. Add ice, shake well and double strain
Upstate New York Sour
Elegant and beautiful, this twist on a classic cocktail is sure to please.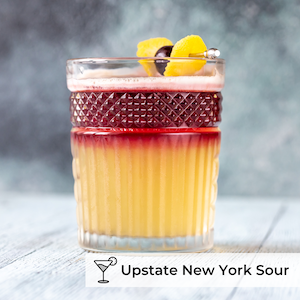 2 oz. bourbon
.75 oz. simple syrup
1 oz. fresh lemon juice
1 egg white
1.5 oz. dry tannin forward cider
Bourbon-soaked cherries for garnish
Add bourbon, simple syrup, lemon juice and egg white (or vegan foamer) to a shaker and dry shake to incorporate all the ingredients and achieve a nice foamy texture. Add ice and wet shake. Strain into a rocks glass and add a large ice cube. Using the backside of a bar spoon, float 1.5 oz of your favorite dry tannin forward cider.
Summer Cider Sangria
Looking to make a large batch cocktail that you can adjust ingredients based on what you have on hand? This is the perfect cocktail for any summer plans.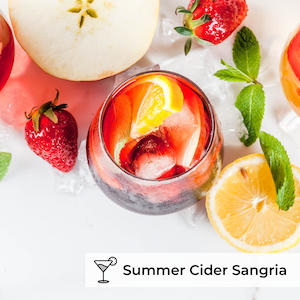 750ml dry cider
½ cup apple or pear brandy
Apple or pear slices
Fresh berries
Fresh citrus
Citrus round and mint or other fresh savory herbs for garnish
Combine your fresh fruit and cider of choice into a large pitcher and stir to combine. Once satisfied with the fruit infusion, add the brandy and lots of ice. If you prefer your sangria to be a little sweeter, add fresh juice or lemonade.
*Note: you can change up the fruits used to better suit your cider choice. If your cider is low in acid, you could use more citrus. If your cider is higher in tannin, you could use more juicy red fruits to balance.
Not sure which cider to use, check out the American Cider Association's Dry Cider Finder for a fantastic list of dry ciders throughout the US.