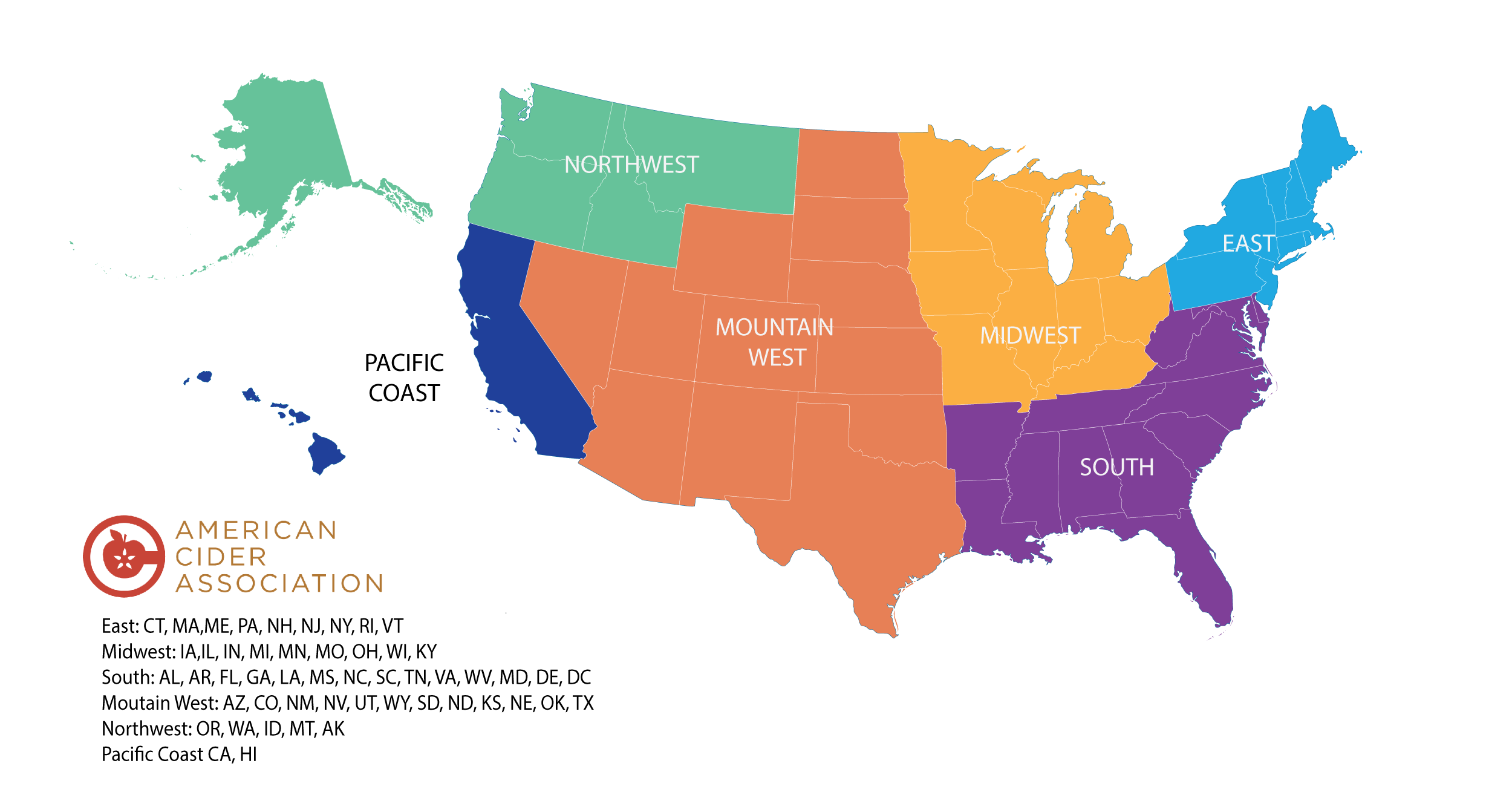 The Board of Directors for the American Cider Association is a 13 person board elected on a staggered basis. Elections take place annually during the week of CiderCon®, the premier international conference for cidermakers. All board members volunteer to serve and commit to three year terms with the option to run for re-election. Board positions are divided by role: regional chairs (1 per region), large cideries (limited % of board, must produce >1M gal/year), and at-large members (not specific to region or size). Board members are required to be permanent employees of a bonded cidery.
The ACA board works tirelessly for our members throughout the year to grow a diverse and successful U.S. cider industry. In addition to running their own cider businesses, they serve on our committees, they advocate with lawmakers, they help develop our strategic plan, and they are resources and sounding boards for our members.
Interested in learning more about our board or in running for a position on our board? Contact Michelle for more details.
Eleanor Leger
Board President, Eleanor Leger is the Founder of Eden Specialty Ciders of Vermont. Eden was established in 2007, and is a leading producer of ice ciders and heritage ciders. Eleanor has served on the Board of the American Cider Association, as a member of the Vermont Working Landscape Enterprise Board, and was a founder of the Vermont Cider Makers Association. In addition to leading the team at Eden, Eleanor writes about the economics of small cider production at Cidernomics.com  She represent's American Cider Association's East region: CT, MA, ME, PA, NH, NJ, NY, RI, VT.
Brooke Glover
Board Vice President, Brooke is one of the owners of Swilled Dog Hard Cider, a family-owned company based out of Franklin, West Virginia. Brooke serves as the Sales and Marketing Director for Swilled Dog and loves cider-making and teaching people about cider. Her passions include dogs, family and friends, making an impact, learning, adventures, and tater tots. Prior to being one of the founders of Swilled Dog, Brooke worked in the technology and banking industries. She is also an ACSM certified personal trainer. Brooke holds an At Large cidery seat on the ACA board.
Dave Takush
Board Secretary, Dave Takush is the Head Cidermaker and co-owner of 2 Towns Ciderhouse. Dave earned a Master's Degree in fermentation science at Oregon State University and has almost over a decade of experience in the craft beer, wine and cider industries. His passion for fermentation led him to join two childhood friends in starting 2 Towns Ciderhouse in Corvallis, Oregon. Now one of the largest craft cider producers in the nation, 2 Towns has over 100 employees and is dedicated to producing quality craft cider from 100% fresh-pressed Pacific NW apples. Dave is also a board member of the Cider Institute of North America.
John Behrens
Board Treasurer, John Behrens is the Founder and President of Farmhaus Cider Company located in Hudsonville, Michigan. This company was founded in 2015 and has gone on to win many national and international accolades and awards. John began his first term as President of the Michigan Cider Association in 2018. Previously, he worked as a Certified Public Accountant for over 10 years at BDO USA and Steelcase. John holds an MBA from Grand Valley State University, in addition to degrees in Accounting and Finance.  John represents the Midwest region for American Cider Association. States include: IA, IL, IN, MI, MN, MO, OH, WI, KY.
Soham Bhatt
Soham Bhatt started Artifact Cider Project in 2014, with co-founder Jake Mazar, with the desire to create exceptional cider that expresses the Northeast as it is today. With this philosophy and a commitment to helping sustain local orchards, especially in western Massachusetts, they started Artifact as a boot-strapped passion project that crisscrossed the state. Today, Artifact is made up of a small and resourceful team, who value hustle and bring new, often outside perspectives to the company and the industry. Soham was elected to the American Cider Association board in 2021 as an At Large Cidery seat.
Philippe Bishop
Philippe is a co-owner of Alpenfire Cider, a small, family-run cidery based in the seaport town of Port Townsend, WA. We began planting our orchard in 2003 exclusively for making cider and released our first blends from the 2006 harvest. He primarily handles the sales and education side of things in and out of our region, but with any small company we all wear many hats from blending to pruning and everything in-between. Previously his work included Sales and Operations at a high end craft beer, cider, & sake distributor, plus has sat on the board of the Northwest Cider Association. Currently he lives in Seattle, WA with his wife Shannon and two kids Sierra & Cortland. Elected to the board as an at large member in 2020.
Ryan Burk
Ryan is a native New Yorker and a lifelong student of fermentation and agriculture. As Head Cidermaker, he oversees production, new product development and orcharding at Angry Orchard's 60 acre farm in The Hudson Valley. Prior to joining the Angry Orchard team, Ryan racked up years of professional cider making experience in Michigan, with a particular focus on barrel aging and natural fermentation. Ryan serves as a board member to the American Cider Association and the Cider Institute of North America (CINA) and has been recognized by USApple's "Young Apple Leaders," Wine Enthusiast's "40 under 40" as well as Imbibe Magazine's "Imbibe 75" for his leadership, collaboration and innovation in the cider industry.
Ben Calvi
Ben Calvi is the Director of Cider Making for Vermont Hard Cider Co. in Middlebury, Vermont.
Previously, he made cider at Champlain Orchards in Shoreham, VT, and wines at Esser Vineyards and Quintessa in the Napa Valley, for Burklin-Wolf in Germany, and at the Robert Mondavi Institute in Davis, CA. Ben lives on a tiny apple orchard in nearby Cornwall with his wife, Sophie, and two children, Arthur and Delfina. He joined the American Cider Association board of directors in 2016.
David Glaize
David Glaize is a 4th generation apple grower in Winchester VA, and co-owner of Old Town Cidery. Alongside his brother (Philip) the two convinced their dad to plant cider varieties back in 2010, and to construct a processing facility in 2018. The juice company, Glaize & Brother Juice Co, provides custom juice blends to cideries, wineries, and breweries up and down the East Coast. In working to keep the family business vertically integrated, David and his brother opened Old Town Cidery in 2021. David is a member of US Apple–a trade group for apple producers–and hopes to help deepen the relationship between the two groups. He is passionate about consumer education and farmland protection. David is the representative for our South region:  AL, AR, FL, GA, LA, MS, NC, SC, TN, VA, WV, MD, DE, DC.
Talia Haykin
In 2017 Talia, along with her husband Daniel, founded Haykin Family Cider in Colorado. Their cider journey began in 2013 as hobbyists in their living room. As they learned more about the rich history of apples and hard cider in the United States their cider became strongly focused on single varietals and family farms with whom they have personal relationships. In addition to her work with their award-winning cidery, which encompasses all business areas, Talia is a Denver-based writer and social media strategist. She worked with the University of Denver to develop a Social Media Masters program after graduating with her Masters degree. She works with a wide variety of clients doing social media marketing, content curation, and website development. Talia lives in Denver with Daniel, their two small children, and fluffy dog.  Talia represents our Mtn. West region covering the following:  AZ, CA, CO, NM, NV, UT, WY, SD, ND, KS, NE, OK, TX.
Sarah Hemly
In 2015 Sarah launched Hemly Cider with Co-Founder Chris Thomson.   With help from her Tasmanian Business partner, Sarah built and grew Hemly Cider into an award-winning cider company that showcases the fruit grown by the family's sixth generation pear and apple orchards.  As the company has grown, the focus has shifted to include fruit from multiple California crops.  Previous to Cider, Sarah earned a degree in Landscape Architecture from the University of California Berkeley.  After spending 8 years in Architecture and project management, she left the field and now serves full time as President of Hemly Cider as well as on the board of Greene and Hemly, the family orchard and packing company. Sarah is serving as the Interim Pacific Coast Region chair. The Pacific Coast Region represents CA and HI.
Marcus Robert
Board Treasurer, Marcus joined Tieton Cider Works in 2010 as the cider operations manager, orchard manager and cider maker. He is a fourth generation farmer in the Yakima Valley of Southern Washington. He is a former board member of the Northwest Cider Association. He joined the American Cider Association board of directors in 2017. Marcus is the representative for our Northwest Region:  OR, WA, ID, MT, AK, HI.
Christine Walter
Christine grew up on her family's farm, Bauman Farms, in rural Oregon. Raising apples and pressing juice with her family are some of her earliest memories. She studied biochemistry in college, and started and ran a small retail company for 22 years before discovering and quickly falling in love with cider. It took her a couple years to convince her family that cider was a real thing and that I might be able to make it on the farm if they would only let her use a small corner of a barn to launch Bauman's Cider. As you can imagine she has since taken over the whole barn, and created a huge following among her family. She is also currently a member of the board of the The Cider Institute of North America and regular guest instructor.