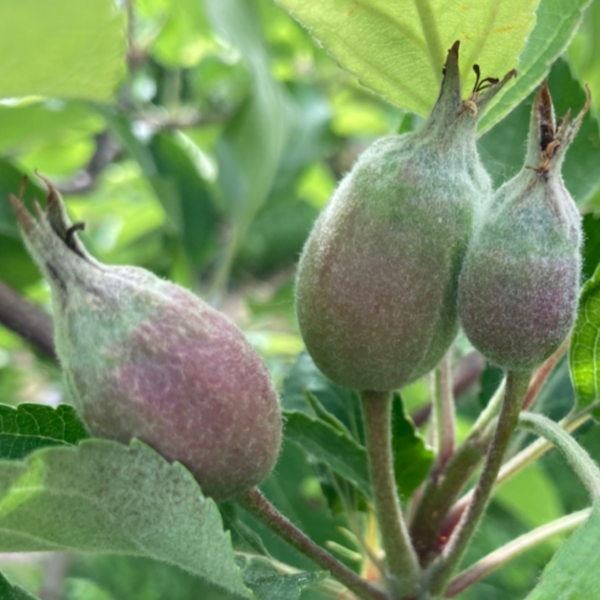 It's time once again to share what we've heard from extension agents and orchardists around the country about this year's apple crop. Initial reports were taken in April with a follow-up from some folks in June.
Dr. Nikki Rothwell – Michigan State University Extension
April 27: We have had a slow start to spring here in Michigan, which many growers prefer compared to the wild seasons we have had in the recent past. Trees are waking up slowly, and we are gaining growing degree days at a limited rate. The seasons where we see large swings between early warm ups followed by drastic drops in temperatures are much more concerning with the apple crop. Growers are still pruning, bucking brush, and waiting for warmer weather. Some growers in the southern part of the state have made copper applications with the warm weather over the past weekend (23-24 April). We have also had much more rainfall than our typical early springs, so growers have not been as active within the orchard with the wet soils. According to our MSU Climatologist, more wet and cooler weather are in the forecast through the middle part of May. Thus far, have not seen any frost events that would be greatly reducing the crop. There is a cold overnight predicted tonight (27 April), but most temperatures are not going to be so cold as to damage flower blossoms. We will continue to keep an eye on the weather throughout the spring.
The current apple crop in Michigan is looking good at this time. However, as growers know, there is a long way to go until harvest. Our fellow growers in Utah and Washington state have provided reports of cold weather and snow, but no official estimates are out yet. The demand for apple fruit across the U.S. is likely to be good, particularly with the ongoing situation in Ukraine and Russia. One of the major issues is availability of fertilizers this spring. Again, the conflict in eastern Europe has disrupted the nitrogen supplies, and both Russia and Belarus are the second and third largest producers of potash. In addition to fertilizer shortages, there are transportation issues, which may disrupt the availability of both raw and finished products. There have even been reports of chemical container cap shortages! We are recommending that growers worth with their agrichemical representatives to secure products that will need this season. With the cold weather, insects and disease pressure has been low. However, if the predictions are correct and wetter weather will continue to be around this season, we may see increased amounts of pests and diseases.
June 16 Update: I can add that we had very cool conditions during thinning, so we may have to do some hand thinning later this season. The overall apple crop looks good, and we have had some well timed rains that have helped out a lot. Despite the relatively dry weather, we are starting to see apple scab show up. Not a lot of fireblight with the cool weather at bloom.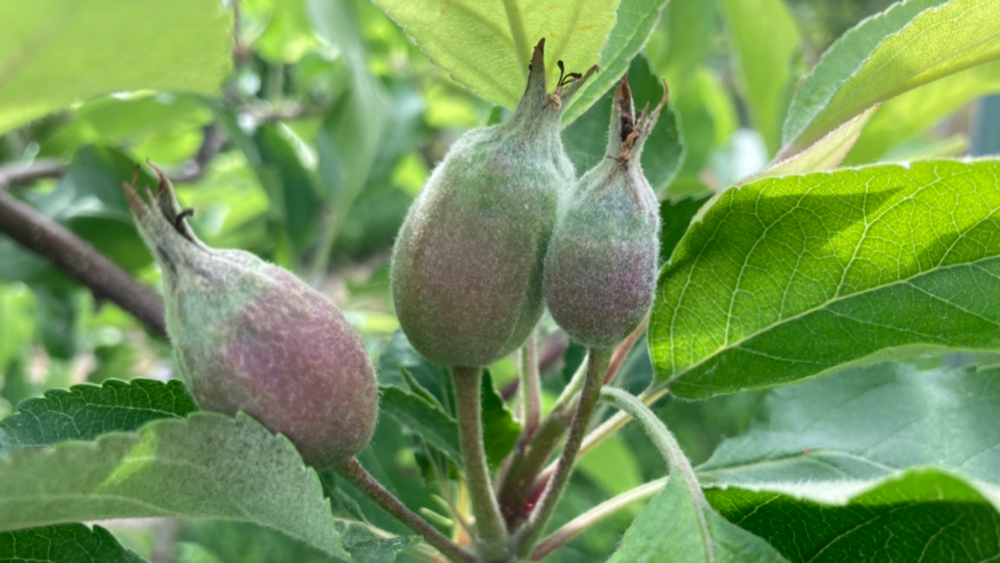 Katrina Mendrey & Zachariah Miller – Montana State University Western Agricultural Research Center
April 27: Trees are just starting to wake up across Montana. Many trees are still recovering from our big freeze in October 2020, so we expect a light crop in cultivars like Marie Menard, Major, Golden Russet and Harrison. The cold hardier cultivars like Hewes Virginia Crab, Binet Rouge and Muscadette de Dieppe are looking great after a relatively mild winter. We have had a slightly cooler spring than usual, but this may have been to our advantage as we had temps as low as 10F on 4/13/22 at the Western Ag Research Center in Corvallis, MT. At the station most of the trees were still in silver tip except for the HVC, Wickson and Chestnut crabapples which were all approaching tight cluster. We have seen about 20% damage to the king blossom in Hewes Virginia Crab, but little damage otherwise. Just nature helping us thin!
June 20: The cider trees at the station seem to have come through the spring cold just fine. There's the typical variation in crop load with alternate baring, but there were dense blooms on the trees that are in a bearing year. For the later blooming cultivars, the weather was hot during bloom and that elevated the risk of fireblight. The MT growers that I talked to were managing fireblight well. We'll see the impact on production over the next few weeks.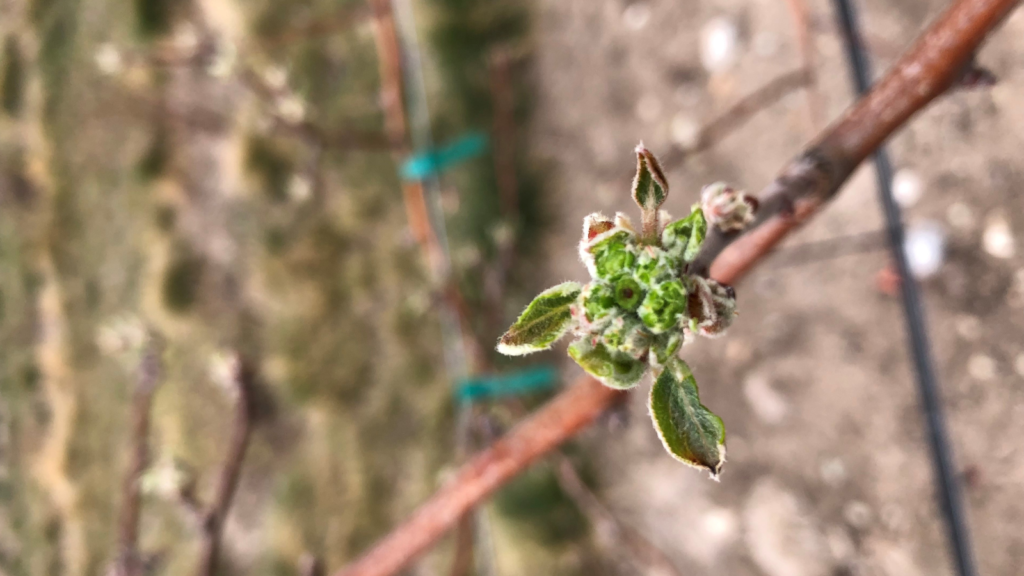 Greg Peck – Cornell University
New York had a fairly average winter with cold temperatures that extended into the spring. Bloom dates in the central and northern parts of the State were inline with long-term averages. There were no major spring frost events in New York's main apple growing regions. However, there were several days during bloom when temperatures were exceptionally warm (>85 ºF), providing excellent pollination conditions. Immediately after bloom many growers were feeling very optimistic about the crop. However, those warm days allowed for the bacteria that causes fire blight to rapidly multiply and many cider apple growers have since reported that they have a considerable amount of fire blight infections in their trees. This is despite the fact that there were minimal precipitation events, which is usually needed to cause a fire blight infection. The fire blight outbreak has spared many farms around the State, but I've heard reports of fire blight in every region. For those with infected trees, the damage is considerable. Both organically and conventionally managed orchards are affected this year, showing the difficulty in managing this lethal disease. At Cornell's research orchard in Ithaca, as well as many other farms in New York, we now have streptomycin resistant strains of Erwinia amylovora (the bacteria that causes fire blight). This means that streptomycin, the predominant antibiotic that is used to prevent fire blight, is no longer effective. Streptomycin resistant Erwinia strains had already become common in Washington and Michigan, but had previously only been found on a few farms in New York. I suspect that these resistant strains are becoming more commonplace in New York and are in part the cause of the 2022 outbreak.
The early part of the growing season was exceptionally conducive to plant growth. There was plenty of soil moisture from the excessive precipitation received in 2021 combined with warm temperatures. These conditions exacerbated the fire blight infections in many trees. For those farms that weren't battling fire blight, the early season was idyllic. Apple scab, which is the most economically important fungal disease in this region, was very manageable and I have seen very few infections in either conventional or organic orchards. Last year's extreme rain events have become a distant memory, as many parts of New York head into drought conditions. Without additional rainfall, orchards in New York can expect smaller than usual fruit. However, this may also result in higher sugar contents in the juice, similar to what New York experienced in 2020. Going from extreme precipitation in one year to drought the next has been a predicted result of climate change in our region. These predictions are now a reality as apple growers must manage producing apples with both too much and too little water.
With the exception of farms that have suffered fire blight infections, I suspect that New York's apple crop will be near to average in volume. High tannin cider apples are still in short supply as they are not widely grown yet, but there should be plenty of apples overall.
Jake Mann – 5 Mile Orchards, Corralitos, California
June 21: The 2021 harvest was a light one. Not surprising, as we were overdue for a biennial down year after great yields in 2018/2019/2020. When we closed up the cold storage after picking Granny Smith (the last variety harvested), the large rooms were definitely not full to the doors as in years past. Though we had more robust sales in-season to cideries and fresh market, there was no denying it had been a lean year. Our extra irrigation through summer did help size-up the fruit that had set (we normally only irrigate once), and pickers were still able to place their ladders and fill bins quickly. Many cheers to our great team of foremen/women, ace mechanic, cold storage maintenance gurus, neighboring apple growers, and the community that supports our care of these remaining apple forests while providing fruit and juice to folks across the state.
Fast forward to June of 2022 and my current mantra is "Always. Be. Thinning." The trees are loaded, and I can't be anywhere near one without popping extra fruit off the clusters that are weighing down branches. Spring's unreal bloom turned into a heavy fruit set. We dodged frosts, hail, and any excessive warm rains that would promote scab growth. Evidence of insect pests is minimal so far. Always keeping an eye out, ready to react, but also observing how our continued customs of orchard management are keeping this fruiting ecosystem in balance.
We accumulated a normal / minimum requirement of chilling hours and precipitation over the winter. Irrigations began in early June, starting with a newly-leased organic orchard that has a nice block of McIntosh (an uncommon variety here) all on semi-dwarf, tightly planted, ladder-free, short trees. (A fresh "rompecabezas" ("head-breaker") …a term our foremen use when referring to the puzzles of a new orchard.) We'll move into the giant seedling rootstock Newtown Pippins with 30' sprinkler pipe at the beginning of July for their annual deep watering from shared wells in the neighborhood.
Gravensteins are starting to show stripes and are pushing off their "June drops". I caught the first whiff of a ripening apple on the ground this week. Overwhelming, and quickens the pace toward the first harvests that will begin in less than 2 months. Fingers crossed, we might need all the bins this year.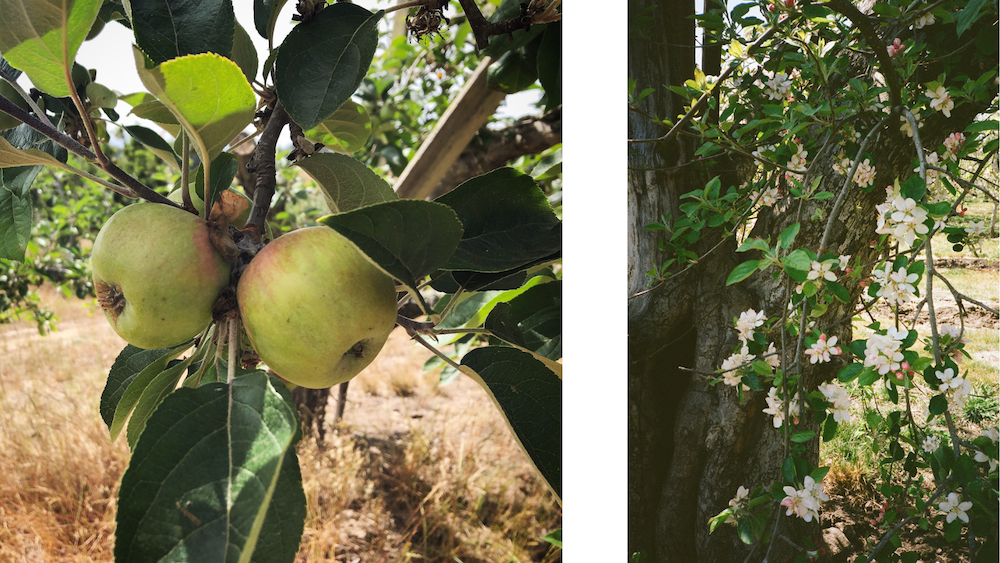 Renae Moran – University of Maine
June 16: Conditions for apples in general are good in Maine. In the southern half of the state, bloom occurred with higher than normal temperatures and good pollination conditions. This was followed by cold temperatures during the thinning window. Many orchards had excessive fruit set, so I was worried about getting good thinning during the prolonged cold weather. Orchards at the Highmoor Farm experiment station are starting to show effective chemical thinning. In the north, pollination conditions were less favorable with cool temperatures and wind. Fruit set appears to be adequate in orchards in the central part of the state.
Fireblight seems less problematic than in past years. Weather during the regular bloom time was drier than normal. Late blooming cider varieties may show signs of fireblight since rain was more frequent during their bloom phase. Bloom sprays of streptomycin or other antibiotics is now routine for most growers, so I expect fireblight to remain under control.
Marcus Robert – Tieton Cider Works
June 15: In Central Washington late frost events and recent wind and rain conditions has adversely affected the crop volume. Overall stone fruit crop will be down substantially from previous years. The apple crop will also be lower than previous years. Biennial bearing trees have shown lowered return bloom and hail events in the northern area has decreased the crop. Pears seem to be holding their own so far. They have made it through the worst of the cold and crop load seems to be average.
Megan Muehlbauer – Rutgers University
June 15: New Jersey has had several frost events early in the spring that have cause significant fruit loss in early/mid-blooming varieties. Of the varieties that made it to full bloom, most of them had a very protracted full bloom (1-2 weeks). In general, the later blooming hard cider varieties have made it through the spring without damage and the crop outlook looks good. In terms of disease, some apple scab has been observed on several of the hard cider varieties in the Rutgers University variety trial (Pittstown, NJ) this year.
Dr. Chris Gottschalk – USDA ARS, Appalachian Fruit Research Station
May 16: The growing season for 2022 is off to an exciting and nerve-racking start at the Appalachian Fruit Research Station (AFRS) in Kearneysville, WV. Bloom kicked off with the majority of pear varieties entering full bloom during the week of April 11th. Unfortunately, a chilly overnight temperature of 21˚F was observed on March 29th. The cold temperatures resulted in an estimated 50% blossom death to the most advanced pear varieties (Fig. 1). Mid- to late-blooming pear varieties survived the night with potentially minimal loss of 20% or less of blossoms. Wild apple species, interspecific hybrids, and cultivated varieties began to bloom during the week of April 18th. Traditionally, apple bloom at the station during the first week of May. We are about one week ahead of schedule for historic apple bloom dates in our area. The apples also did not sustain any damage due to the cold temperatures in late March as their development is delayed compared to pear. Pollinators, especially native bee species such as Blue Orchard Bee (Osmia lignaria), have been abundant and active this season. Pears are beginning to display signs of fruit set with fruitlets starting to appear and apples are at anthesis during the week of April 25th. We are anticipating average to high yields for both crops at AFRS.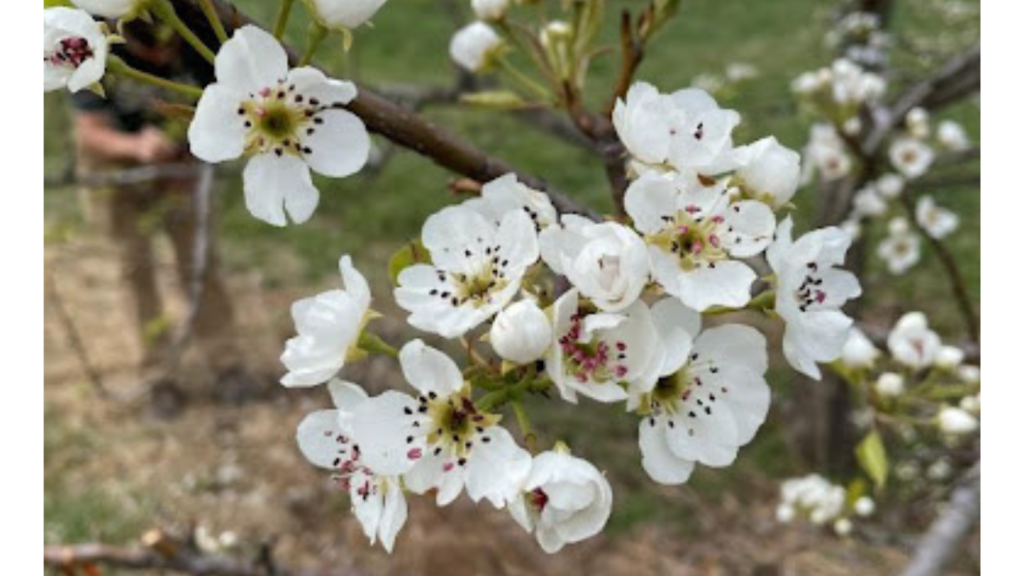 Nik Wiman – Oregon State University
April 22: We have had a very cool spring with one of the wettest Aprils on record so far. We had a rare snow in early April and some unseasonably cold temperatures throughout the month. At the North Willamette research and Extension Center in Aurora OR where our research cider apples are located we had multiple days with below freezing temperatures and a low temperature of 28 F, but we have not seen much damage to apple bloom. We anticipate good fruit set and ample soil moisture going into the growing season. We have had almost 5 inches of rain in April through the 22nd, so we are a bit concerned that there has not been a lot of time for the bees to work. Just short windows between the rain storms and cold temperatures. Probably the late blooming varieties will fare better than the early bloomers this season.