CCP Level One Workshop at Far West Cider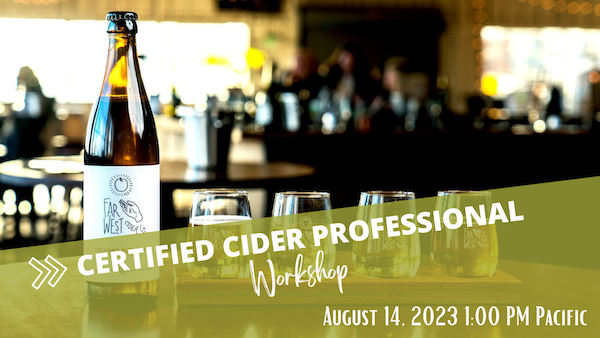 Far West Cider is excited to collaborate with the American Cider Association to host an in person Certified Cider Professional workshop on the afternoon of August 14!
Do you sell cider or work in a tasting room or retail shop? Are you a chef, sommelier, cicerone, buyer or cidermaker? Do you just love cider and want to be able to spread the word with some serious cider knowledge to back it up? Then this workshop is perfect for you! This is a great opportunity to gather with fellow California cider folks to develop your cider knowledge so you can keep on promoting the amazing California ciders you know and love or to learn about them if you're new to cider! Not to mention, you'll have the chance to walk away with a Certified Cider Professional Level One designation!
Attendees will enjoy a two hour workshop and tasting session with American Cider Association Education Operations Manager and Certified Pommelier™ Jennie Dorsey. After the workshop, attendees will have the opportunity to take the online test at Far West Cider (bring your own computer). The test can also be taken online at a later date if so desired.
Did we mention that after the workshop, you'll be able to purchase Far West Cider to take home or to enjoy with fellow attendees in the tasting room?!
Cost to attend is $65 per person and includes the test fee (this is a $30 savings from individual bundle purchases AND includes a cider tasting).
*A note about arriving at Far West Cider: Use the above address in Google Maps and just follow the navigation, if it feels like you've headed the wrong way you're right on track. Riggers Loft is located at the end of the long winding road. Look for a building marked "SHEET METAL / PAINTING" and a red banner marked "WINE TASTING HERE." Far West is right inside!