CiderCon® 2024 Tasting Sessions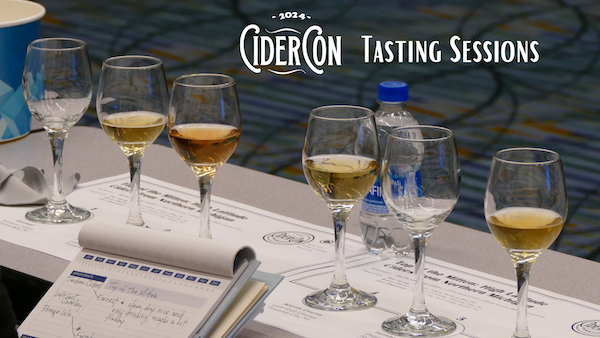 Tasting sessions have long been one of the most popular features of CiderCon®. Attendees can gain a wealth of knowledge while sipping on ciders that delve into the styles, production practices, flavors, and terroir available. Below you will find the CiderCon® 2024 tasting sessions outlined with dates and times as well as cost per session. It is important to note that some of these sessions may overlap, so be sure to check the schedule carefully. Don't forget to add on any tastings that catch your eye during the registration process, as they are sure to sell out quickly!
An Introduction to Low-ABV & Non-Alcoholic Cider Production
Date & Time: Thursday, January 18, 10:30-11:45 AM
Cost: $12
Moderator: Dave Takush
Speakers: Ellen Cavalli, Christine Walter, John Berardino, Scott Katsma
This session will provide a basic overview of the various methods that can be used to produce low-ABV and non-alcoholic (NA) ciders, including a brief introduction to the technologies and regulations that may be associated with NA cider production. We will not be covering sparkling juice production, Participants will taste a range of products and should walk away with insight into various methods that might be employed to produce low-ABV and NA products, and the knowledge that there are different regulatory hurdles associated with NA production. Attendees will learn about different methods of low-ABV production, different methods of non-alcoholic production, technologies associated with NA production, and regulatory matters associated with NA production.
Breaking Boundaries: Cider Hybrids with Beer and Grape Wine
Date & Time: Thursday, January 18, 10:30-11:45 AM
Cost: $12
Moderator: Christine Hardie
Speakers: Ryan Burk, Johan Sjöstedt, Tom Oliver, Kathline Cheri, Tariq Ahmed
An increasing number of cidermakers, winemakers, and brewers are experimenting with hybrids that break down what is typically expected from stand-alone beverages. By crossing boundaries between categories, the outcomes of these blends and co-fermentations offer exciting new flavors. Join this session to hear from producers about different approaches to hybrid products and considerations when unifying cider, wine and beer. Attendees will taste cider/grape wine hybrids from North America and grafts from the U.K. and Sweden, where beer/cider hybrids have been a key to bringing new consumers into the fold of cider.
Comparing the Effect of Yeast Inoculation Rate on Fermentation Kinetics, Chemical and Aroma Compounds in Cider Fermentations
Date & Time: Thursday, January 18, 2:00-3:15 PM
Cost: $12 SOLD OUT
Speakers: Jocelyn Kuzelka & Andy Hannas
Yeast produce different types and concentrations of aroma compounds as a function of yeast strain type, fermentation conditions, raw ingredients, and juice treatments. The sensory profile of cider is significantly associated with yeast selection and the quality of cider is dependent upon predictable fermentation outcomes. During yeast metabolism subtle changes in yeast cell inoculum level, determine rate of cell division, nitrogen demand, and availability of aroma precursors. It is generally accepted in the wine world, that 106 yeast cells/mL should allow the fermentation to proceed predictably and completely with little to no residual sugar remaining; while under inoculating leads to sluggish and stuck fermentations. However, recent research in wine and beer has suggested that yeast inoculation rate can be used to drive aroma production toward an increase in positive aromas. Speakers in this advanced level sensory session will explore the effect of yeast inoculum size on the production of aroma compounds both positive and negative in a cider fermentation, by decreasing cell count to accommodate the limited carbohydrate and nitrogen present in apple juice destined for fermentation. Attendees will learn more about yeast metabolism and how yeast inoculation rates can be used to drive cider style and quality.
Pear Necessities: The Fruits and Flavours of International Perry
Date & Time: Thursday, January 18, 2:00 – 3:15 PM
Cost: $12
Moderator: Adam Wells
Speakers: Albert Johnson, Natalia Wszelaki, Laura Cherry, Tom Oliver
Riding the wave of the cider revolution, perry – perhaps the world's best-kept drinks secret – has gradually been ascending too. In the UK, continental Europe, the USA and beyond, makers and drinkers are waking up to the unique qualities of the fermented pear. In this session Adam Wells, founder-editor of Cider Review and currently writing his first book, Perry: A Drinker's Guide, will lead a panel discussion and tasting of some of the best perries from around the world.
Nordic Approaches to Cidermaking
Date & Time: Thursday, January 18, 3:45-5:00 PM
Cost: $16
Moderator: Gabe Cook
Speaker: Åge Eitungjerde, Arita Åkre, Olav Bleie, Mikael Nypelius, Karl Sjöström, Andreas Sundgren, Magnus Nilsson
This year, we're excited to welcome a delegation of Nordic cidermakers to CiderCon®. Join this session for a unique opportunity to try ciders from Norway and Sweden and learn about different production styles and techniques used in the region.
The Ancestral Method: Between Science & Art
Date & Time: Friday, January 19, 10:00-11:15 AM
Cost: $12 SOLD OUT
Moderator: Nicole LeGrand Leibon
Speakers: Yann Gilles, Levi Danielson
This very traditional method in France makes it possible to produce sparkling ciders, fermented in bottles, while preserving some residual sugars of the apple without adding anti-yeasts or using pasteurization. Willamette Valley is home to some renowned winemakers using this technique, and more and more cidermakers are experimenting with the Ancestral Method. Hear from experts about production considerations, ways to identify the critical points, and keys to success of this demanding method, between science and art. Attendees will walk away having understood the particularities, advantages and disadvantages of the ancestral method compared to other carbonation methods. They will be able to identify the critical points and keys to success of this demanding method, between science and art.
Harvest Harmony: Exploring the Potential of Apple and Stone Fruit Co-Ferments
Date & Time: Friday, January 19, 10:00-11:15 AM
Cost: $12
Moderator: Dan Pucci
Speakers: Adam Chinchiolo, Matt Sanford, Susannah Forbes
This session's goal is to examine the extent of the possibilities of what apples plus+ can do. Co-ferments have been adopted across the fermentation world as a fun and exciting entry point both for producers and consumers alike. This session will focus on two different co-ferment mediums that are added with apples to produce something greater than the sum of their parts. This session will talk about making co-ferments but will focus on how these cider into a portfolio of offerings and how to engage with consumers about their nature, flavor and personality.
Evaluating Ciders for the Certified Pommelier™ Exam
Date & Time: Friday, January 19, 11:30-12:30 PM
Ticketed Session: $10
Speakers: Darlene Hayes, Tim Powers
Participants will practice evaluating ciders using the ACA's Structured Sensory Evaluation process guided by Certified Pommeliers™ Darlene Hayes and Tim Godfrey. This session will teach you how to objectively assess any cider, empowering you in the cidery and in assisting customers to find a cider they love while also helping you to prepare for the Certified Pommelier™ exam.
Foraged Fruit Project: A Discussion of Discovery
Date & Time: Friday, January 19, 1:45-3:00 PM
Cost: $12
Moderator: Scott Ramsey
Speakers: Greg Peck, Maria Kennedy, Steve Selin
Cider producers in many parts of the country are foraging apples to use in their commercial products. Some producers do this as an inexpensive way to obtain apples, others are finding unique quality attributes from the foraged fruit, and still others believe that foraging is a way to discover climate resilient genotypes that can be propagated and grown in orchard settings. In this panel discussion, Cornell and Rutgers scientists will share results from a project that interviewed dozens of producers in the Northeastern US about their foraging practices, and then chemically analyzed the foraged fruit, as well as genotyped the trees to learn about the pedigree of the trees. Commercial cider producers will be on the panel to share their stories, as well as their ciders made from foraged apples. Attendees will learn about the scale and scope of foraging, the reasons why producers are foraging, and the quality of cider made from foraged fruit.
New Frontiers in Traditional European Cider Regions
Date & Time: Friday, January 19, 1:45-3:00 PM
Cost: $12
Moderator: Abram Goldman-Armstrong
Speakers: Darlene Hayes, Gabe Cook, Yann Gilles, Edu Vazcot
In an increasingly global cider community the exchange of information is leading to truly impressive innovations in both traditional and emerging cider producing regions. This panel of international cider experts will discuss the exciting new developments taking place across Europe. Traditional ciders may have their steadfast supporters, but in order to capture new consumers innovation is essential. This panel of writers, researchers, judges, and consultants, have a broad understanding of cider in all its forms, and will present some of the most innovative ciders from their regions.
Using Amphora & Terracotta Vessels in Cider Production
Date & Time: Friday, January 19, 3:30-4:45 PM
Cost: $12
Moderator: Christine Walter
Speakers: Dan Rinke, Andrew Beckham, Deborah Heath, Katie Selbee
Clay vessels have been used to ferment, store, and transport beverages since 6000 B.C. and a new wave of producers are rediscovering amphora and terracotta as a breathable, sustainable, and durable option for making cider. Andrew Beckham, the first commercial producer of terra cotta Amphorae for winemaking, cidermaking, and brewing in North America, will walk through the process of making his Novum fermenters and how to use them and care for them. Producers will discuss how they craft their ciders using terracotta, and what considerations to have when fermenting in amphora. This will also include a tasting of their ciders.
The Pasteurization Primer: Starting Out and Scaling Up
Date & Time: Friday, January 19, 3:30-4:45 PM
Cost: $12
Speakers: Aaron Homoya & Joseph Kilbourn
Anyone can pasteurize cider at any size! Learn the science, data tracking, and practical methods to start with test batches and scale up to a hundred cases per day and beyond. We will start with a brief overview of stability concerns, needs, and common methods for cider, then hone in on pasteurization theory, best practices, equipment options, and solutions for small to medium sized cideries. Topics include temperature monitoring, DIY small-scale bath pasteurization, batch pasteurizers, small tunnel pasteurizers, and brief discussion of many interrelated stability and packaging parameters. There will be a sensory tasting of pasteurized cider at different levels. Attendees will learn what a PU is, how to determine target min/max PUs, deciding what equipment options are right for you, and tips for how to scale.