Posts Tagged 'CiderCon 2022'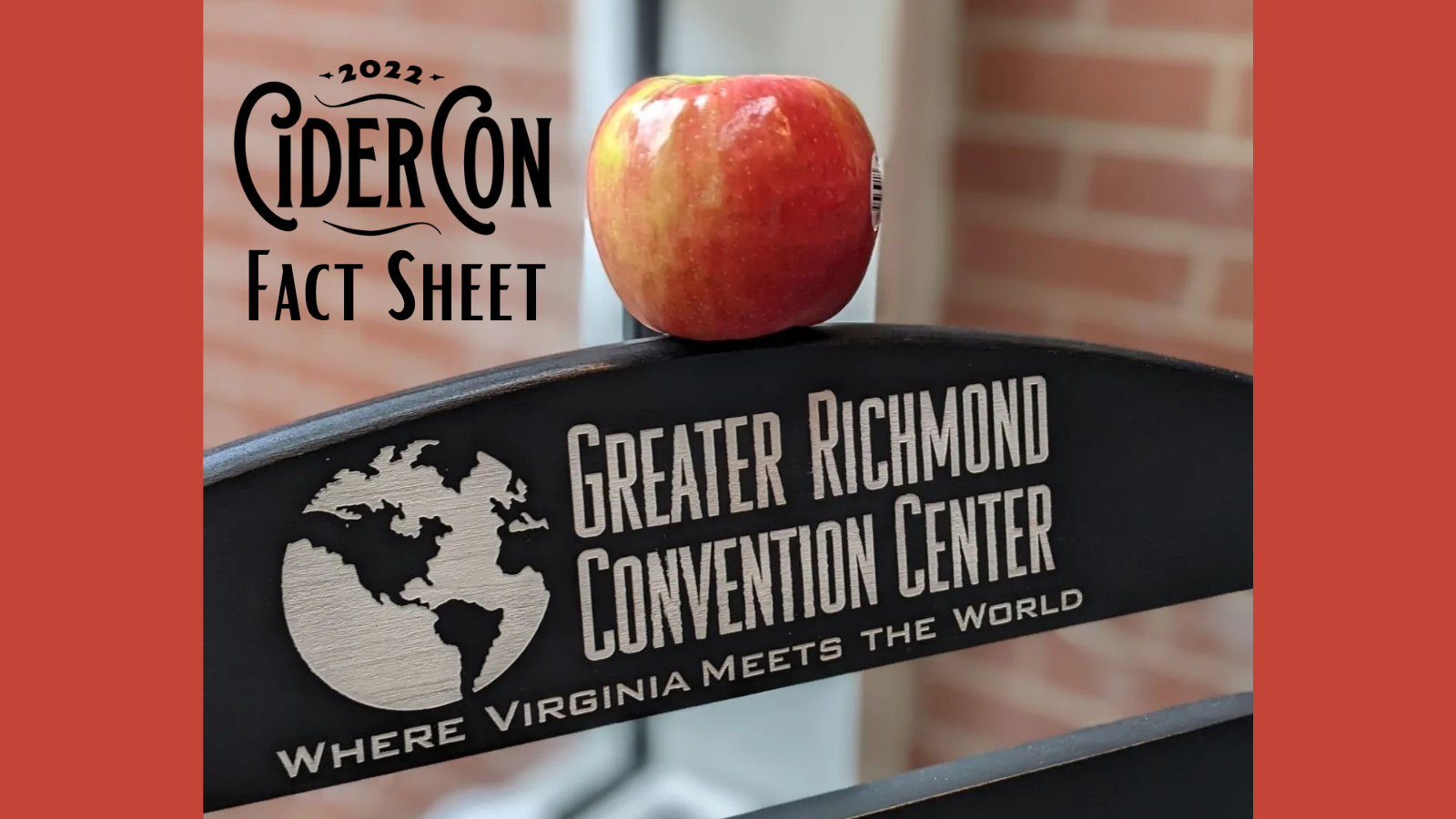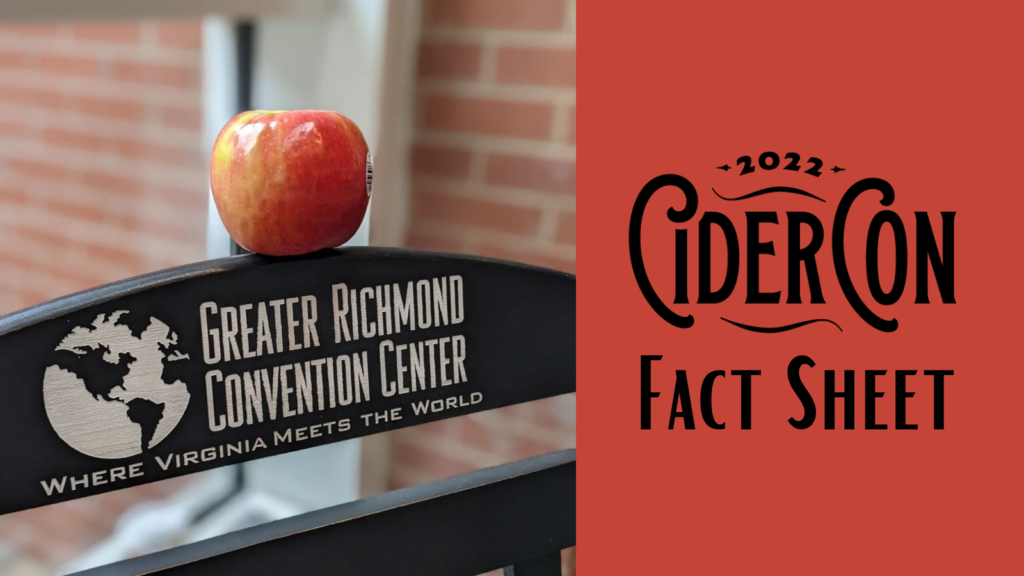 The 12th Annual CiderCon® took place in Richmond, Virginia from February 1 to February 4, 2022. This was a return to an in-person event after holding CiderCon 2021 in a virtual space. CiderCon® is the American Cider Association's annual event. This year's theme was Southern Cider. 
On the main two days of the conference, 37 workshops presented information on 8 tracks. The tracks were: apples and orcharding, cidermaking, flavor and terroir, sales and distribution, marketing and trends, better business, legal and compliance, and history. The schedule can be downloaded here.
36 states and DC were represented with Virginia, New York, Washington, California, Oregon, and Pennsylvania sending the most attendees.
805 people attended the conference, and there was an increase in the number of regular ticketed attendees participating compared to the last in-person conference in Oakland, CA in January 2020.
This year's trade show featured 73 vendors including several veterans from past CiderCons®, as well as an impressive number of first time exhibitors who were excited to meet professionals from cider's growing industry.
James Beard finalist and multi-nominee Diane Flynt of Foggy Ridge Cider was the event's keynote speaker. She discussed the history of Southern apples and cider and the lessons that modern growers and cidermakers can learn from that history.
There were 11 tastings sessions in total for CiderCon® 2022 including sensory evaluation and food pairing workshops, crab apple cider tastings, Southern apple cider tastings, a sensory review of Northern Michigan ciders, low-abv cider cocktails and more.
The American Cider Association partnered with the  Cider Institute of North America to co-develop a large production oriented and technical-in-nature workshop track with 9 sessions on topics from producing cider using wild fermentation to fruited cider to creating ciders with residual sugar. The Cider Institute of North America trains cider makers through their educational programming in partnership with universities like Cornell.
In addition, CiderCon® held several orcharding sessions for growers. Beginning sessions included an introduction to holistic orcharding practices and a hands-on grafting workshop. Advanced concept sessions included integrated pest management solutions for both diseases and insect pests.
Sessions also focused on lessons that can be learned from other craft beverage industries, including tourism, sustainability practices, clubs, and barrel aging.
The American Cider Association offered its Certified PommelierTM exam at CiderCon® 2022, an advanced second level designation of its Certified Cider Professional program geared toward beverage and hospitality industry professionals. More than 30 people sat for the challenging test that includes a blind sensory evaluation section. The new cohort of Certified PommeliersTM will be announced in 6 weeks. 
More than 150 people took one of 5 tours during CiderCon® 2022. The first overnight tour was offered to the Northern Shenandoah Valley of Virginia, in addition to tours to the Virginia apple growing regions of Albemarle County and Nelson County. There was also a tour of Richmond based cideries and a tour of the historic Jackson Ward area of Richmond–once known as Black Wall Street. The tours were coordinated the  Virginia Association of Cidermakers and the Virginia Wine Board Marketing Office.
The ACA launched an equity pledge at CiderCon® and two sessions directly addressed methods for building a more inclusive cider industry. Day Bracey, founder of Barrel & Flow (formerly Fresh Fest), discussed how he and his team built one of America's most inclusive brew festivals and the initiatives behind it. Dr. J. Nikol Jackson-Beckham of  Crafted For All and the Brewer's Association returned to CiderCon® to cover a variety of practical pipeline development strategies to help cider business successfully increase the breadth, depth, and diversity of its pool of qualified job applicants.
CiderSoms hosted CiderCon®'s first ever BIPOC Cider Professional Meetup and Pomme Pride hosted their first meetup for LGBTQIA+ cider industry professionals.
Richmond Cider Days, an unaffiliated list of cider events sponsored by the Virginia Association of Cidermakers, took place during the week of CiderCon® with 30 events ranging from single varietal tastings, to tap takeovers, to cider pairing dinners. 
The American Cider Association's annual board elections happen concurrently with CiderCon®. Newly elected board members were announced during lunch on Friday and include: Christine Walter of Bauman's Cider in Oregon to an At-Large Seat, and David Glaize of Glaize & Bro. Juice Co. and Old Town Cidery in Virginia as the Southern Chair. Eleanor Leger of Eden Ciders in Vermont was re-elected to Eastern Chair and Ben Calvi of Vermont Cider Co. was re-elected to a Large Cidery Seat.
The American Cider Association's board recognized Diane Flynt of Foggy Ridge Cider in Virginia and Dan Pucci of New York, co-author of

American Cider

, for their significant contributions to the cider industry. 
CiderCon® 2023 will be held in Chicago, IL from January 31 through February 3, 2023.
CiderCon® was created to offer the commercial cider industry an outlet to meet, share ideas, collaborate and affect positive changes in cider making and cider fruit production best practices, the cider market and cider regulations. CiderCon® is organized by the American Cider Association whose mission is to grow a diverse and successful U.S. cider industry by providing valuable information, resources and services to our members and by advocating on their behalf.