CiderCon 2022 Health and Safety Guidelines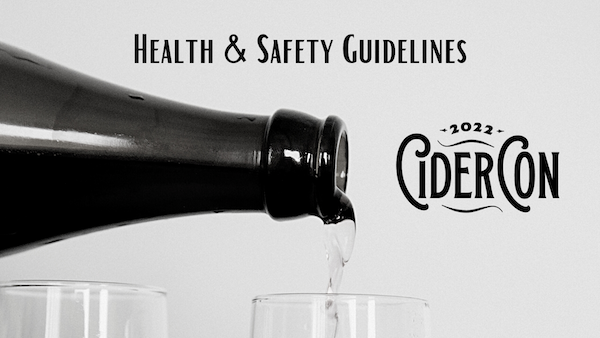 The American Cider Association is taking utmost precautions to create a safe CiderCon environment. Our health and safety guidelines require all persons present at CiderCon 2022 to be fully vaccinated against COVID-19 by January 21 or to provide a negative PCR test within 3 days of arrival or to provide a negative antigen test within 24 hours of arrival. One of these two things, proof of vaccine or a negative test result within the above timeframe, will be required to attend CiderCon 2022. Verification will happen outside registration at the Greater Richmond Convention Center. Absolutely no exceptions will be made.

Per Virginia Department of Health and CDC recommendations, we are currently strongly urging attendees to receive booster shots against COVID-19 by January 21, 2022. The CDC recommends receiving a booster shot if it has been 6 months since your second mRNA or first Johnson & Johnson shot.

Additional precautions:
Masks must be worn at all times at indoor CiderCon events with the exception of during meals and tasting events where specific safety protocols will be in place. This includes tour buses. 
Security and staff will enforce mask adherence. 
CiderCon staff and volunteers will participate in daily health screenings.
At this time, the hotel and the Greater Richmond Convention Center require their staff to wear masks.
Tasting sessions will be in expansive rooms and will be socially distanced as much as possible.
The Cider Share welcome reception is being divided into two sessions, with featured cideries rotating off. We will be capping attendance of Cider Share to 200 per session. The room has the capacity for 600, and we will encourage social distancing. 
Thursday's and Friday's lunches are box lunches so you can easily opt to eat where you would like. Tables will be set at less density than normal. 
Please do not attend CiderCon with symptoms. 
We are working closely with the hotel, the Greater Richmond Convention Center. and the Virginia Department of Health to ensure all possible safety precautions are taken. The list above is not exhaustive and we will be sure to update registrants as things evolve.
We are carefully monitoring the COVID-19 restrictions in Richmond and Virginia. Your safety matters to us.
Let's take care of each other, get boosted, wear our masks, and have the safe in-person CiderCon reunion we are all craving!