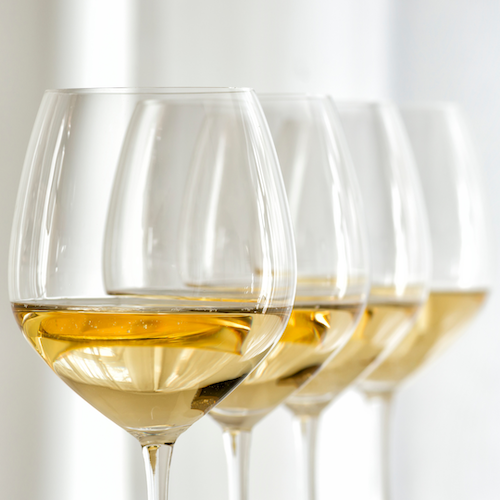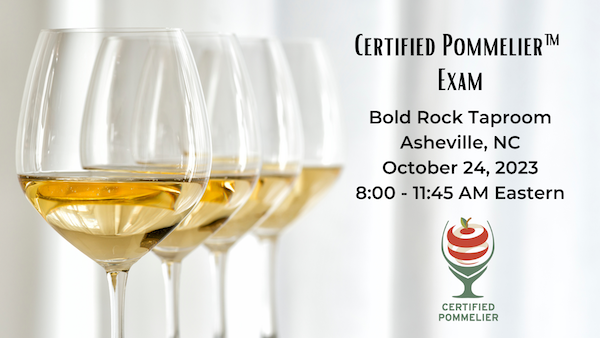 TAKE THE CERTIFIED POMMELIER™ EXAM IN ASHEVILLE, NORTH CAROLINA!
Are you ready to take the next step in your professional development in the cider industry?
If you have already passed the Certified Cider Professional Level 1 Certification and are looking for that next challenge? Now is your chance!
The American Cider Association is pleased to announce a Certified Pommelier™ Exam will be held in Asheville, North Carolina! The exam will take place Tuesday, October 24, 2023 at the Bold Rock Taproom, 39 N Lexington Ave, Asheville, NC 28801
Read on to learn more about the Certified Pommelier™ Exam and how to prepare, what to expect, and how to register! (P.S. There's a discount code available for ACA members who want to take the test. You can find that code HERE by logging in to your account.)
WHAT IS THE CERTIFIED POMMELIER™ EXAM?
The American Cider Association's mission is to grow a diverse and successful U.S. cider industry by providing valuable information, resources and services to our members and by advocating on their behalf. One way to fulfill this mission is through the Certified Cider Professional Program–a program aimed at educating the front-line of cider sales (distributors, retailers, bartenders and more!).
The intro-level certification (CCP Level 1) is an online test that can be taken at any time. The more advanced level of certification–the Certified Pommelier™ exam–is an in person hand-written exam in two parts: Theory and Sensory. The theory portion of the exam consists of four types of questions: short answer, fill in the blank, matching, and essay, and the sensory portion of the exam is a blind tasting using the ACA's structured sensory analysis forms.
*CCP Level 1 is a prerequisite for Certified Pommelier. (Haven't taken your CCP Level 1? Buy the bundle here.)
Certified Pommeliers™ must have a fundamental understanding of all topics covered in CCP Level 1, but must also be able to think critically and use the basics to demonstrate a higher understanding of the elements of cider. This exam is meant to be challenging. Studying is highly recommended.
The topics covered in the exam are:
Apples, the Orchard & History
Cider Making
Flavor & Evaluation
Cider Families
Keeping & Serving
Food & Cider
Social Responsibility
*If a test-taker passes only the Theory or only the Sensory portion of the exam, they are permitted the opportunity to retake the un-passed portion of the exam at a future date (within 18 months). After the 18 month grace period has lapsed, any portions of the exam not passed may be retaken at a 25% discount.
WHY BECOME A CERTIFIED POMMELIER™?
Cider is a beautifully nuanced beverage with a diverse set of elements that are often misunderstood by food and beverage professionals. Certifications are increasingly used in the professional realm to set oneself apart as an individual with specialized knowledge, though cider is often covered in a cursory manner by most certification programs, if at all. Although there are already more than 2.200 Level 1 Certified Cider Professionals, being recognized as a Certified Pommelier™ will put you in the vanguard of verified advanced cider specialists in this ever growing category.
HOW MUCH DOES THE TEST COST?
For ACA members, the exam is $200. There is a discount code that members can access to receive the exam at the membership rate of $200. That discount code can be found here.
For non-members, the exam is $275.
Price now includes access to a pre-recorded introductory webinar to the updated sensory form and sample sensory forms from key cider regions. The webinar can be accessed at any point to prepare for your exam.
FAQs
Are there ID or minimum age requirements to enter the event? YES- You must be 21 or older and you must provide an ID to prove you are who you say you are.
Do I need to pass the level 1 CCP exam to take the Certified Pommelier™ test? Yes. Passing the Level 1 CCP exam is a prerequisite. If you have not yet taken the Level 1 exam, you can purchase the Level 1 bundle on demand HERE. The bundle includes an on-demand webinar, study guide, and access to the online exam.
What can I bring into the event? Nothing may be brought into the exam room. Cell phones must be left at the door. Pencils and drinking water will be provided.
How can I contact the organizer with any questions? Please contact Education Operations Manager Jennie Dorsey at jennie@ciderassociation.org.
What's the refund policy? We will refund test takers until two weeks before the exam.
Is there a training workshop? This is not a workshop, but an exam only. Once you register for your exam, sensory exam prep materials will be emailed to you. These prep materials include a sensory form instruction video, sample sensory forms, and blank sensory forms. We strongly suggest you purchase the Certified Pommelier™ Study Guide from Amazon. The study guide will cover all information presented in the theory portion of the exam. There is also a dedicated Facebook Group (that is open for all to join) with prep materials and in depth peer conversations. STUDY! We highly recommend interviewing cidermakers and cider tenders to help prepare. Blind tasting flights are also good prep. In addition, there are sensory webinars available for purchase here, and new live sensory analysis webinars will be announced on our certification page.
Is it ok if the name on my ticket or registration doesn't match the person who attends? If you are transferring registration to another person, please email us in advance.
Is there a tasting section on the test? Yes. You will be asked to evaluate ciders from multiple cider families.
How long does the test take? You are given 2 hours to complete the theory portion of the exam and 1 hour and 30 minutes to complete the sensory portion. There will be a 15 minute break in between exam portions.
Refund and Opt Out Policy
Refunds will be offered up to 2 weeks before the exam.
Any purchaser can opt out of the exam up to 72 hours prior to scheduled time. If opt out is chosen, another exam date must be chosen within 18 months. No refunds will be given.