ACA Receives Grant for "Year of the Apple" in Virginia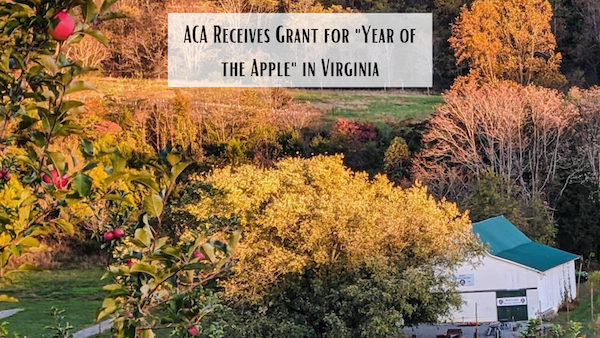 The American Cider Association is proud to announce a new partnership with the Virginia Department of Agriculture and Consumer Services through a USDA Specialty Crop Block Grant awarded for $70,012. Starting in early 2022, the American Cider Association (ACA) and their partners in Virginia cidermaking and agriculture will launch "The Year of The Apple," an integrated public awareness, food industry professional outreach and market research campaign.
Virginia is the country's 6th largest producer of apples and home to 48 independent cider makers, from the celebration-worthy bottles to adventure-ready cans. Virginia also boasts perhaps the longest and most storied history of cidermaking in North America, with apple orchards that date back to the 1600s. Yet both the restaurants and food lovers of Virginia don't choose home-grown cider enough—Virginia has lower sales-per-capita than other cider making states.
Virginia Association of Cider Makers President Anne Shelton is excited about the opportunity the grant may bring. "Our state has a bountiful array of homegrown apple varieties, a deep history of cidermaking, and a super talented community of cidermakers crafting a wide variety of styles. We hope this grant can increase awareness around this with consumers and buyers and promote Virginia apples."
In addition to creating awareness and understanding around Virginia cider, the grant will pay for survey research to learn more about the supply of the unique mix of apples that grow best as well as more about the state of the cider industry in Virginia.
From Shenandoah peaks to gentle ocean beaches, Virginia is home to a uniquely American diversity of landscapes, people, and ciders. "With just a little reminding, I think the drinkers of Virginia are ready to embrace the diversity and deliciousness of our uniquely Virginian ciders," says ACA member Courtney Mailey of Blue Bee Cider in Richmond.