Posts Tagged 'CiderCon 2023'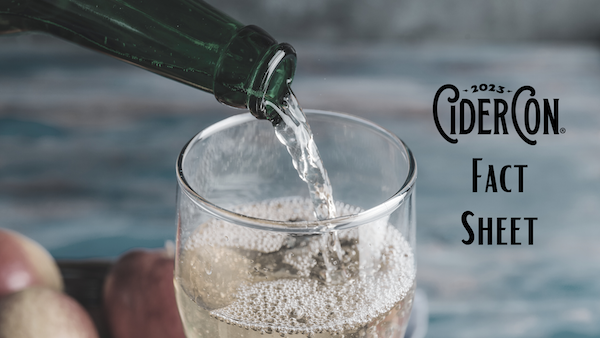 The 13th annual CiderCon® was held in Chicago, Illinois from January 31 – February 3, 2023, celebrating a return to Chicago after a four year absence.
965 people registered for CiderCon 2023, including attendees, vendors, volunteers and speakers.
Attendees were from 40 different states including Alaska and Hawaii.
New York had the most registrants followed by Michigan, Illinois, California, Washington, and Virginia.
Attendees from 9 different countries participated in CiderCon®, including Austria, Canada, France, Guam, Ireland, Korea, New Zealand, Sweden, and the United Kingdom.
The ACA welcomed keynote speaker Sunny Gandara, former Global Wine Director for the Mathew Kenney Restaurant Group and the founder and owner of The Plant Curious Table, a digital dual-purpose education and wine consulting company, to CiderCon® 2023. Her talk explored vegan market growth and trends, who plant-based consumers are, why cider is perfect for this growing group, and how to market to these consumers.
There were 38 educational sessions held during CiderCon® covering topics in the areas of Better Business, Cider Production, Branding, Marketing & Sales, Orcharding, and Apples, Flavor & Terroir. The Cider Institute of North America helped to develop the cider production track sessions once again. The schedule can be downloaded HERE.
There were 12 tasting sessions, including a traditional perry tasting with Claude Jolicoeur, author of the recently released Cider Planet and of The New Cider Maker's Handbook, which has been acclaimed worldwide as a major reference on the topic of cidermaking. Other tasting sessions included orchard trials from New York state, sensory analysis sessions, and sessions addressing pet nat cider, carbonation, blending, and spontaneous fermentation.
There were several data driven sessions featuring speakers from the National Beer Wholesalers Association, Market Technology, Sovos ShipCompliant, 3 Tier Beverage, CGA Strategy, and Good Beer Hunting.
Mary Guiver of Whole Foods Market Inc and Mark Venegoni of SpartanNash joined CiderCon® 2023 on our retail panel discussing how to create positive relationships with chain retailers.
The ACA once again offered its Certified Pommelier™ exam at CiderCon® 2023. The Certified Pommelier™ is an advanced second level designation of the ACA's Certified Cider Professional program geared toward beverage and hospitality industry professionals. Close to 40 people sat for the challenging test that includes a blind sensory evaluation section. The new cohort of Certified Pommeliers™ will be announced in 6 weeks.
About 150 individuals participated in tours for CiderCon® 2023, including tours featuring Chicago's cider scene, an historical tavern tour, a Frank Lloyd Wright architecture and cider tour, and a tour of the Bronzeville neighborhood, beloved as a center for African-American life and culture in Chicago.
There were numerous networking opportunities, including a Newcomer Networking session, a BIPOC Cider Professional Meetup, a Pomme Pride Meetup for LGBTQIA+ cider industry professionals, and an Orcharding Meetup.
The TTB and the FDA both held sessions at CiderCon® 2023 and were available to attendees to answer questions regarding topics ranging from labeling to licensing to recipes.
The Trade Show sponsored by FruitSmart featured 92 vendors from around the country and the world, and featured several new vendors as well as many who have returned year after year to support the cider industry.
The American Cider Association's annual board elections happen concurrently with CiderCon®. Newly elected board members were announced during lunch on Friday. New board members welcomed are Sarah Hemly of Hemly Cider as Pacific Coast Chair and Breanne Heuss of Golden State Cider, and newly re-elected board members are Dave Takush of 2 Towns Ciderhouse and Philippe Bishop of Alpenfire Cider, both to At-Large Seats, Marcus Robert of Tieton Cider Works as Northwest Chair, Talia Haykin of Haykin Family Cider as Mountain West Chair, and John Behrens of Farmhaus Cider as Midwest Chair.
CiderCon® 2024 will be held in Portland, Oregon from January 16-19, 2024.
CiderCon® was created to offer the commercial cider industry an outlet to meet, share ideas, collaborate and affect positive changes in cider making and cider fruit production best practices, the cider market and cider regulations. CiderCon® is organized by the American Cider Association whose mission is to grow a diverse and successful U.S. cider industry by providing valuable information, resources and services to our members and by advocating on their behalf.