Health and Safety Guidelines: Masks are currently optional for CiderCon® 2023. We reserve the right to change the health and safety guidelines based on current recommendations from the CDC.
Registration Now Open!
Early Registration: $425 per person (Until October 22)
Regular Registration: $475 (After October 22)
CiderCon® 2023 Hotel Block is now open!
Please use this link to book your rooms now for discounted rates for CiderCon® attendees.
Certified Pommelier™ Exam Registration is Open!
Are you ready to take the next step in your professional development in the cider industry? Already passed the Certified Cider Professional Level 1 Certification and looking for that next challenge? Now's your chance! The exam will take place February 1, 2023.
Tastings Sessions
Once again a plethora of tasting sessions are scheduled to give attendees the opportunity to taste while learning about the nuances of cider, terroir, and cidermaking.
Tours
Bronzeville Neighborhood Tour: $50
Chicagoland Cidery Tour: $75
Frank Lloyd Wright Tour: $95
Historical Tavern Tour: $65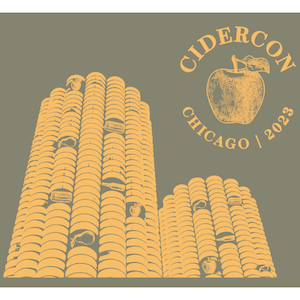 T-Shirts
T-shirts will be available as an add-on during registration for $16.
There will be a very limited number of t-shirts for sale at CiderCon® 2023. You are encouraged to purchase a t-shirt during registration to ensure that you receive one.
CiderCon® Presented by Premier Sponsor:
© 2021 American Cider Association
American Cider Association is a 501(c)6 non-profit organization.
P.O. Box 66483 Portland, OR 97290