CiderCon® Session: Labeling of Hard Ciders Under FDA Jurisdiction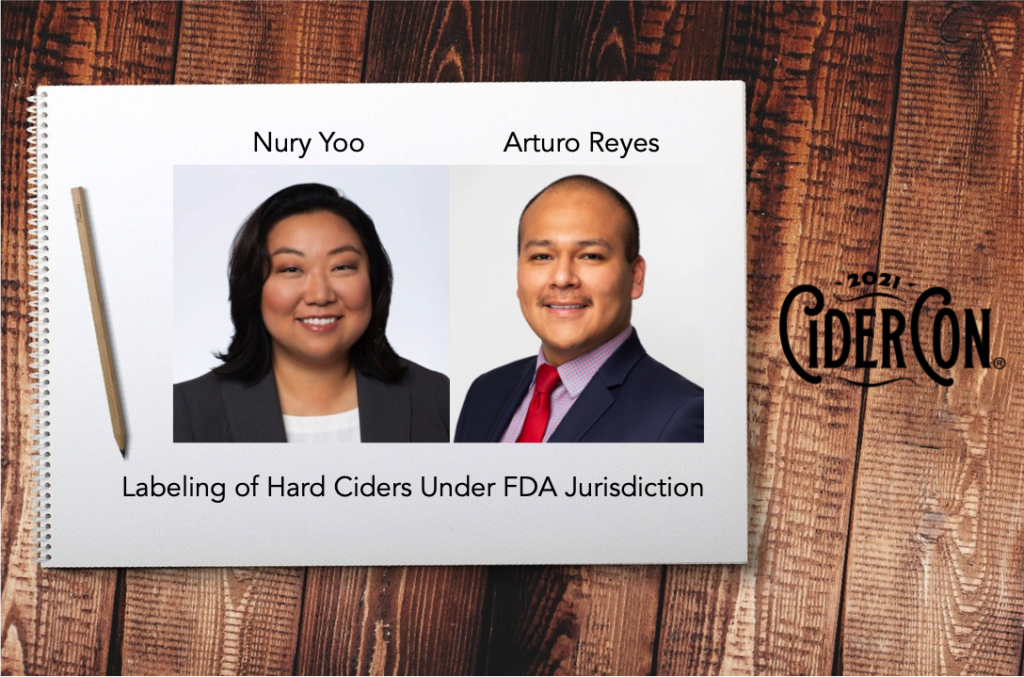 Is your hard cider under 7% ABV? If so, do your labels comply with U.S. Food and Drug Administration (FDA) labeling regulations? Join Keller and Heckman food and beverage attorneys Nury Yoo and Arturo Reyes as they discuss the ins and outs of FDA's labeling requirements for these products. The discussion will also touch on other "labeling" aspects to consider, such as claims on packaging and in advertising/marketing/social media, as well as strategies to help manage the risk of potential consumer class action and competitor challenges.
We're thrilled to have experienced lawyers, Nury Yoo and Arturo Reyes, of Keller and Heckman join us at CiderCon® to talk about the ins and outs of FDA compliance. Learn more about them below or on our Speaker page.
Nury Yoo
Nury Yoo represents clients in the food, beverage, cosmetics, dietary supplement, personal care, and alcohol beverage industries, as a member of Keller and Heckman's Tier 1 nationally-ranked Food and Drug Practice. Her areas of expertise include regulatory compliance, labeling, marketing and advertising (including social media), food safety, product recalls, due diligence reviews in connection with private investment, California's Proposition 65, and the complex federal and state issues surrounding the use of cannabidiol (CBD) and related cannabinoids in consumer products. She also advises clients on litigation risk analysis and avoidance measures, responses to litigation demand letters, and the development and implementation of litigation strategy.
Nury is actively involved with the Food and Drug Law Institute (FDLI) and is a frequent speaker on regulatory compliance and litigation risk issues related to the food industry.
Arturo Reyes
Arturo Reyes advises domestic and foreign clients on compliance with California's Proposition 65, as well as food and food-contact material requirements, in a host of jurisdictions. He counsels clients on U.S. Food and Drug Administration (FDA) and U.S. Department of Agriculture (USDA) regulations relating to food, alcoholic and non-alcoholic beverages, cosmetics, and food contact materials.
Arturo assists clients by reviewing food labeling and promotional materials, including suitable common or usual names, ingredient declarations, nutrition labeling, health claims, nutrient content claims, and allergen labeling. He prepares labeling information for food products marketed in Australia, Canada, Mexico, Hong Kong, Taiwan, and the Philippines.
Prior to attending law school, Arturo worked as a litigation paralegal and, before that, as a fellow at the New York City Mayor's Office, where he worked with numerous city officials, including the Food Policy Coordinator for the City of New York. Arturo is fluent in Spanish and Italian.