ACA Welcomes 12 New Certified Pommeliers™ After October Exams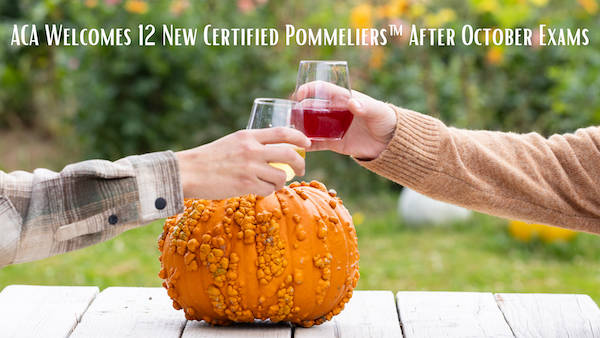 The American Cider Association is proud to announce that twelve individuals successfully passed the Certified Pommelier™ examination in October 2023. The new Certified Pommeliers™ are Ann Bliss of Mullers Cider House, Bryan Barry, Christian Rodriguez, and Tom Hansen of Angry Orchard, Katie Black of DSSOLVR, Johnny Rice of Orchard Hill Cider Mill, Don Whitaker of Castle Hill Cider, Henry Johnson of Bold Rock Hard Cider, Chris Jackson of Treasury Cider at Fishkill Farms, Aaron Gore of Fresh Pitch Beverage Consulting, and cider enthusiasts Sabrina Nencetti and David Lindsey.
The rigorous exam, held in both New York and North Carolina last month, tested candidates on their understanding of cider production, history, and sensory evaluation. As a result, these newly Certified Pommeliers™ are now equipped with advanced skills to guide consumers through the wide variety of ciders available and to help elevate the cider industry at the point of sale.
Early on, the American Cider Association recognized the need to promote specialized knowledge about the cider category. Certifications are increasingly being used to set food and beverage professionals apart. However, most certification programs cover cider in a cursory manner or not at all. With cider being a beautifully nuanced beverage with a diverse set of elements often less understood by food and beverage professionals, the establishment of the Certified Cider Professional (CCP) program in 2016 was a strategic maneuver. Today, the CCP program is designed to educate those on the front-line of cider sales, making it the world's most comprehensive and in-depth cider appreciation program for food and beverage professionals.
The CCP program begins with a Certified Cider Guide (CCG) Level 1 certification to help industry professionals develop a fundamental understanding of cider. The Certified Pommelier™ (CP) Level 2 takes it a step further by encouraging cider professionals to think critically and showcase a higher level of understanding of the elements of cider. The rigorous testing process consists of four types of questions, including short answer, fill in the blank, essay, and blind sensory–which is based on tasting.
The ACA is dedicated to ensuring that all information tested on the exam is made accessible to anyone who desires to learn. To that end, the ACA released a textbook in March of 2023 to help candidates prepare to take the exam with just one comprehensive resource. The textbook is available for purchase through Kindle Direct Publishing. Additionally, the ACA offers sensory analysis practice webinars and a Facebook study group, continuously updated with resources for exam candidates. Interested candidates can find links to all Certified Pommelier™ resources on the ACA's website.
The next Certified Pommelier™ Exam will be held at CiderCon® 2024 in Portland, Oregon on January 17, 2024
Contact the ACA's Education Operations Manager Jennie Dorsey if you have questions about the Certified Cider Professional program or are interested in taking either the Level 1 or Certified Pommelier™ exams. You can also learn more at https://ciderassociation.org/certification.
###