A Few Tips for Getting the Most Out of Cider Market Data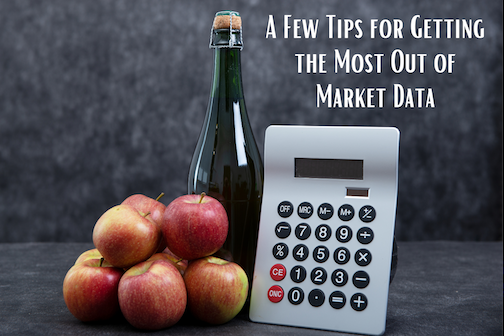 We're excited by the prospect of being able to provide both on-premises and off-premises syndicated data through our partnership with CGA & Nielsen IQ. With access to this data being a newer feature of ACA membership, we thought it prudent to go over a few concepts related to on and off-prem syndicated data.
Both on and off-prem sales statistics are measured using similar metrics including both dollars of cider sold and volume of cider sold. It's important to remember that syndicated sales data such as this measures transactions from the retailer sold to the customer, not from the producer sold to the wholesaler or the wholesaler sold to the retailer. This data is always extrapolated from a smaller sample size to represent the larger market, so often the data is not an exact metric, but rather a gauge on overall trends.
In on-prem, this data represents sales from customers buying cider from bars, restaurants and venues. In the off-prem this data represents sales from customers buying cider at grocery stores, convenience stores and liquor stores. At first glance, the on-prem dollar sales are larger than off-prem sales for the trailing 52 weeks leading us to believe that the on-premises is where the majority of cider revenue is coming from. However, on-prem retailers sell our ciders at a very different price per gallon to their customers than do grocery stores. If you compare the volume of cider sold through on and off-prem, you can see that off-prem sells more than twice the volume as on-prem. Both on and off-prem data measures the volume of cider sold in Case Equivalents (24x12oz or 288oz). Syndicated data uses these case equivalents so that we can more easily compare volumes of cider sold regardless of whether sold in a keg or a can.
Be careful when comparing data between on and off-premises as both can be useful but it can be misleading if compared directly to one another without context and analysis. We hope this helps you to make better use of the data newly available to us.
You can find the on and off-premise data in our Resource Hub.
You must be an active ACA member to view the data. Not an ACA member? Join now!