CiderCon® 2022 Will Feature Four Virginia Cider Tours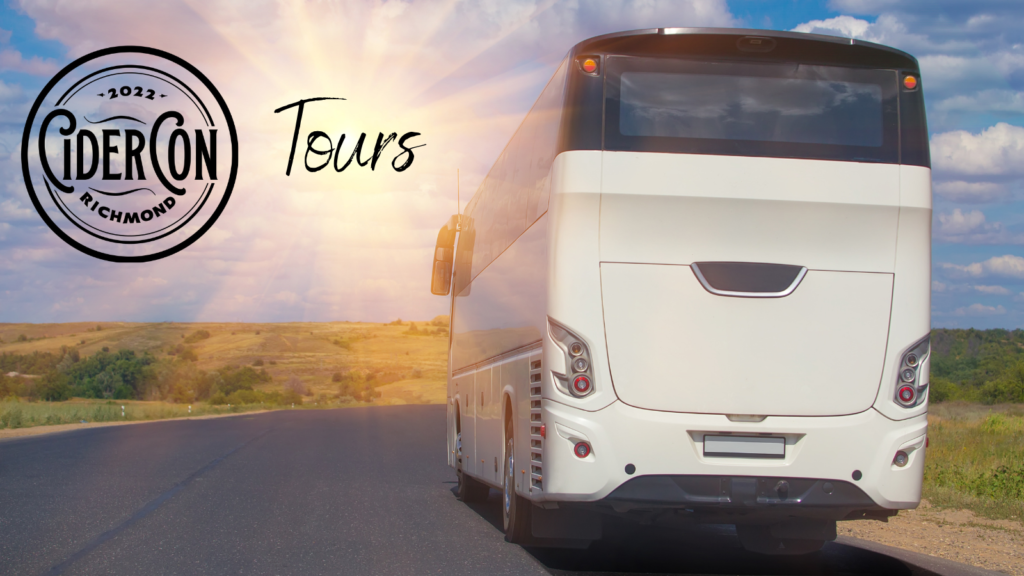 The American Cider Association is pleased to announce that in collaboration with the Virginia Wine Board and Virginia Association of Cider Makers there will be four tours available for attendees of CiderCon® 2022. The tours will feature Albemarle County, Nelson County, the Northern Shenandoah Valley, and Richmond's Jackson Ward.
Albemarle County Tour – SOLD OUT
Located in the foothills of the Blue Ridge Mountains of Virginia, Albemarle County has been an apple growing and cider making region since the earliest days of European settlers. Join the tour of this historically rich area and taste the wide variety of ciders produced here. The tour will begin with a cidery tour and tasting with Don Whitaker at Castle Hill Cider. Next up will be a cider and local charcuterie tasting with Andy Hannas at Potter's Craft Cider, followed by lunch from Plenty Cville. The day will wrap up with a cider tasting and tour with local legend Chuck Shelton of Albemarle CiderWorks before the bus heads back to Richmond.
Nelson County Tour – SOLD OUT
Enjoy the rich orchard heritage of Nelson County. The tour starts with the Virginia outpost for Blue Toad Hard Cider. Todd Rath will host a cidery tour and tasting at their facility at the base of Wintergreen. Next up will be a tour at Bold Rock Hard Cider with a tasting of ciders not widely distributed. Followed by lunch at their tasting barn. Then, the tour will travel down the road to Silver Creek Orchards, a multi-generational apple grower and longtime supporter of the Virginia cider industry. Adam Cooke will give a tour of their orchards and custom crush operation. Coyote Hole Ciderworks will be on hand for a final cider tasting before heading back to Richmond.
Northern Shenandoah Valley Tour
The Shenandoah Valley, nestled between the Blue Ridge and the Allegheny Mountains, is the heart of historic Virginia apple country. Come join a tour of some of the valley's orchards and discussions on growing apples and cider production techniques in the valley. Six cideries will be visited on the two-day tour. The tour will start at Lost Boy Cider for lunch on January 31, 2022. Following orchard visits, dinner will be at Winchester Ciderworks and also feature the Old Town Cidery. Accommodations will be at the George Washington Hotel, a Wyndham Grand Hotel. After breakfast at the hotel on February 1, 2022, there will be stops at Old Hill Cidery, Sage Bird Ciderworks for lunch and Cider from Mars as you meander your way back to Richmond.
Jackson Ward Tour
Celebrate Black History Month in Richmond's Jackson Ward, once known as Black Wall Street for the many financial services, cultural icons, and entrepreneurs who made the neighborhood thrive. This guided bus and walking tour includes history, food and of course cider, most of it within walking distance of the conference in case you want to circle back for more on your own.
Tour Registration
Tour registration will be available as an add on when CiderCon® registration opens. To learn more about pricing and what is included in the tours, check out the CiderCon® Tours webpage.
CiderCon 2022® will take place in Richmond, Virginia from February 1-4, 2022. For more details about CiderCon® activities, follow @cidercon on Twitter or head to the CiderCon® website.