CiderCon 2022 Tasting Sessions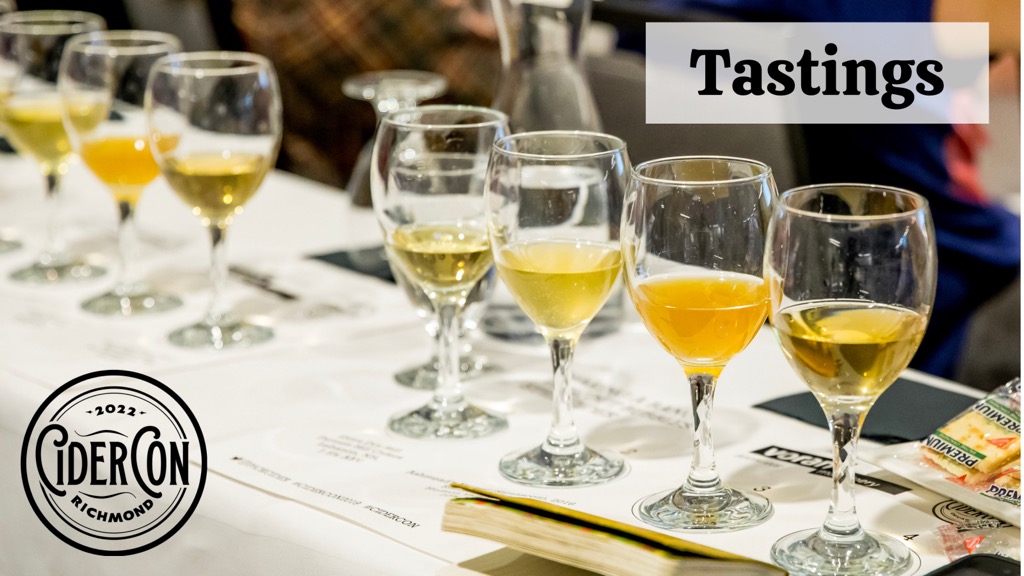 We are thrilled to offer several tastings at CiderCon® 2022! Seating is limited in CiderCon® workshops, including tastings. Read our full Health & Safety Guidelines. Sign-up for tastings available during registration.
Fruited Ciders: Beyond the Apple
Moderator: Christine Walter
Price: $8 Thursday 10:30-11:30
Fresh, frozen, puréed, essenced? Before, during, after? Answers to all of your questions, plus sourcing ideas and tasty examples to making excellent fruit ciders. This session is designed for cidermakers just getting their start. Featured Cider Makers: TBA
Creating Consumer Excitement with Food Pairing Suggestions
Presenter: Jennie Dorsey, Cider Educator
Price: $10 Thursday 2:00-3:00
We all know the "Four C's" of food pairing, but putting theory into practice can be a little intimidating, especially for members of your tasting room staff that are just beginning their adventure with cider. In this session, cider and food pairing expert Jennie Dorsey will walk you through a pairing framework (with tasting samples!) that you can take back to your business, train your staff, and watch your sales grow.
Tasting and Terroir of True Crabs Non- Malus Domestica Apples
Moderator: Dan Pucci, Author
Price: $12 Thursday 3:30-4:30
Malus Domestica is not the only game in town. The Malus genus is diverse with apples native to biomes across the world, wild, feral or bred with intention. Typically valued more for their flowers than fruit, cider is adapting them into its diverse tool box. This talk will look at how these apples perform in a wide range of different growing environments and how they can be used in a wide range of different cider making styles. Featured Cider Makers: TBA
Survey of Yeast-Derived Characteristics and Hands-On Blending
Moderator: Aaron Homoya
Price: $10 Thursday 3:30-4:30
Take your experience with the possibilities of flavor and aroma contributions of yeast strains to the next level with this tasting panel of cider made from one juice and a range of yeasts. Featured Cider Makers: TBA
Southern Cider Apples: A Recipe for Complex Flavor & Changing Climate
Moderator: Diane Flynt, Apple Grower and Cider Maker
Price: $12 Friday 10:30-11:30
Diane Flynt will set the stage for exploring southern cider apples with historic context for old southern cider apple varieties. Presentation will include color slides of southern apple varieties. The panel discussion will touch on fruit cultivation but will focus on the use of older southern varieties in cider.
Panel discussion topics: Varietal characteristics of old southern apples in cider; Cidermakers' experience in using old southern apples in cider; Consumer response to cider made with old southern apples; Optional: apple tasting and cider tasting. Featuring: David and/or Ann Marie Thornton, James Creek Cider House, Tim Wright, Wise Bird Cider, Will Hodges, Troddenvale Cider
Introductory Palate Training
Presenter: Darlene Hayes, Author
Price $10 Friday 2:00-3:00pm
When learning the art of evaluating a cider it can be helpful to start by familiarizing your palate with individual structural elements. In this session, you will experience first hand the flavor and texture differences between several types of acids typically found in cider as well as different sugar levels and types of tannin. Give yourself a great foundation from which to take your tasting skills to the next level.
Best Practices for Producing Ciders with Residual Sugar
Moderator: Brighid O'Keene
Price: $10 Friday 2:00-3:00pm
This tasting session will explore methods and tips for producing cider with residual sugar. You will hear from cider makers producing at various scales and with different equipment about how to successfully make sweeter cider. We'll explore downstream processing and safe bottling with a focus on best practices. Featured Cider Makers: TBA
Wild, Clean & Free: Harnessing the Beauty of Wild-fermenting, Without the Flaws
Moderator: Christine Walter, Head Cidermaker of Bauman's Cider
Price: $12 Friday 3:30-4:30pm
This tasting session will be a deep dive into making the most of traditional and pet-nat processes while producing a cleanly fermented sparkling cider. Featured Cider Makers: TBA