American Cider Association
FOR IMMEDIATE RELEASE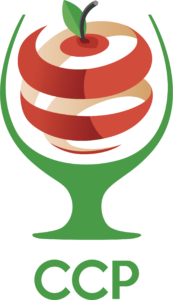 The beer, wine and spirits industries all have recognized certification programs designed for food and beverage professionals. The hard cider industry has had its own version—the Certified Cider Professional (CCP) program—since 2016 through the American Cider Association (American Cider Association). Until recently, the CCP program only had one level, geared toward cider servers. Next month American Cider Association administers the exam for the second level of the CCP program for the first time. It's being touted as their 'pilot' exam and will be offered in Chicago during their annual trade conference, CiderCon. Those who pass the test, with its mix of short answer, essay and tasting oriented questions, will earn the title of Certified Pommelier™. American Cider Association announced a study guide for test-taker hopefuls on their website today.
The study guide covers six sections: Apples, the Orchard & History; Cider Making; Flavor & Evaluation; Cider Styles (US and Europe); Keeping & Serving; Food & Cider. These are the same topics covered in the level one exam, but there are noticeable differences in the suggested study concepts for the two tests. To start, the list of apples to know is greatly expanded, for the new exam. Test takers are told they should be able to assign to the apples to region, style and classes bittersharp, bittersweet, sweet or sharp. These classes are determined by acid and tannin levels. The second key difference is the inclusion of traditional European cider styles for the UK, Spain, France and Germany.
"The test is designed to be challenging," says American Cider Association's executive director, Michelle McGrath. "Studying is highly recommended. We have some handouts on certain topics available on our website, but the books in our recommended reading list are going to be very helpful preparation."
"If test takers don't have experience identifying cider flaws, we suggest they sign up for the 'Elements of Cider Workshop' being offered in Chicago on February 5. The instructor, Charles McGonegal, has been teaching people how to distinguish cider characteristics for many years."
McGrath explains that the expansion of the CCP program is all part of the association's vision that bars, restaurants and retailers celebrate the diversity of the cider category. American Cider Association's recent release of version 2.0 of their cider style guide works toward that same goal.
"Cider sales were up 10% in 2018," added McGrath. "Enthusiasm is growing, and we hope, an expanded awareness of the cider category as a whole can help further sustain this growth."
The association plans to offer the test four additional times in 2019. Dates and locations are yet to be announced.
You can sign up for the Certified Pommelier exam and find study aides at ciderassociation.org/certification.
###
How does a cider vacation sound? Pretty good? Well, here is a chance to go on one for FREE! To enter, simply book your room for CiderCon 2019 in Chicago at the Hilton by January 18!

GRAND PRIZE: We're giving away "The Ultimate California Cider Vacation" to one lucky winner to attend CiderCon 2020 in California. What's included?
Airfare to Oakland or San Francisco, California (including transportation expenses from the airport to the hotel)
5 nights lodging at the Oakland Marriott
FREE CiderCon 2020 registration in Oakland, CA–including tours (SONOMA! or SANTA CRUZ?!) & tastings!
A $50 Gift Card to Redfield Cider or Crooked City Cider–winner's choice
VIP cider share entry
Free tickets to the Bay Area Cider Week event of your choice
GRAND PRIZE RULES
Airfare is for continental US only. Foreign tickets will be provided an equivalent travel stipend up to a max amount.
Airfare is for 1 person.
Airfare and hotel are only good for the week of CiderCon 2020: January 27-February 1, 2020.
Winner's name will be pulled at CiderCon 2019. Name on entry ticket is based on name given to reservation desk at the Hilton Chicago.
Reservations at the Hilton CiderCon 2019 must be confirmed and fulfilled to qualify.
FIRST PRIZE: Want your Hilton Chicago room comped for CiderCon 2019? We'll be choosing one lucky winner to do just that! We'll through in a gift certificate for $50 to The Northman Chicago, too!  We will comp up to 3 nights hotel maximum.
SECOND PRIZE: American Cider Association board member cider prize! 1 lucky person will go home with a box of cider from our board member's respective cideries all over the country.
How to enter?
(1) To enter, you must stay at the Hilton Chicago when attending CiderCon 2019 in Chicago. CiderCon 2019 attendees staying offsite will not qualify.
(2) Hilton reservations must be made by January 18, 2019 to qualify for entry.
(3) Hilton reservations must be completed–canceled reservations will not qualify.
(4) Winner names will be pulled based on reservation holders name.
(5) Sorry, former or current American Cider Association board members or staff do not qualify for entry.
Every year at CiderCon we honor the service of our board of directors throughout the previous year. We also hold elections for rotating board seats. About a third of the board is up for election each year. Our board is structured such that full members (active cidery level member employees) hold the seats. We have regional chairs and a limited number of designated large cidery seats. The remaining seats are designated "at large." Service terms are for three years and these are strictly volunteer positions. Meetings are held monthly, via teleconference.
We are opening the self-nomination period for this year's elections today.
Which seats are up for election?
At Large Any full member producing under 1M gallons of cider a year qualifies to run. Votes cast by active cidery level members at large producing under 1M gallons. (There is a by law vote happening at CiderCon that would immediately open the At Large seat eligibility to large cideries. See next post).
Large Cidery Any full member producing over 1M gallons of cider a year qualifies to run. Votes cast by active cidery level members in the large cidery category.
Eastern Chair (CT, MA, ME, PA, NH, NJ, NY, RI, VT) Any full member producing under 1M gallons of cider a year with business headquarters in the American Cider Association Eastern Region qualifies to run. Votes cast by active cidery level members producing under 1M gallons in the Eastern Region.
Southern Chair (AL, AR, FL, GA, LA, MS, NC, SC, TN, VA, WV, MD, DE, DC) Any full member producing under 1M gallons of cider a year with business headquarters in the American Cider Association Sourthern Region qualifies to run. Votes cast by active cidery level members producing under 1M gallons in the Southern Region.
Candidates are encouraged to declare candidacy early so they may connect with American Cider Association's executive director in advance of the membership meeting in Chicago. Candidates representing view points. currently underrepresented on the board are also encouraged to run.
These documents, always available on our website, may help you when considering candidacy:
To self-nominate, please fill out this form by clicking here. 
Reach out if you have any questions!