Celebrate Cider at Upcoming Festivals!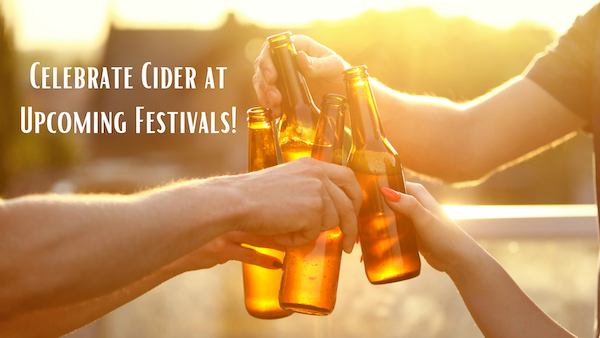 As the leaves begin to change and the air grows crisp, there's nothing quite like sipping on a delicious cider to fully embrace the autumn season. And what better way to indulge in this quintessential fall beverage than by attending a cider festival? Whether you're a seasoned cider connoisseur or a casual fan looking to expand your palate, there are plenty of local and regional cider festivals happening across the United States. From the East Coast to the West Coast, get ready to raise a glass and celebrate cider at these must-attend events!
Cider Summit Seattle
September 8-9, 2023
Seattle, Washington
Join the fun at Lake Union Park @ MOHAI for the region's largest hard cider tasting event, featuring 150 selections from nearly 50 producers. Among the selections will be local, regional and international favorites, mead, cider cocktails, fruit spirits and maybe even a few surprises! This is an outdoor event – rain or shine!
Maryland Cider Festival
September 9, 2023
Gaithersburg, Maryland
Mark your calendars for the inaugural Maryland Cider Festival, happening on Saturday, September 9th from 11 am to 4 pm at Two Story Chimney Ciderworks in Gaithersburg, MD. The festival will feature ten local cideries showcasing their best hard ciders, from dry to sweet, still to sparkling, modern to heritage, and everything in between. You'll get to sample a variety of flavors and styles, and learn more about the cider-making process from the experts.
Pour the Core NY
September 23, 2023
Yaphank, New York
Pour the Core: A Hard Cider Festival is coming to Southaven County Park in Yaphank on Saturday, September 23rd, for another fantastic fall day filled with ciders from local, national and international cidermakers, plus a donut eating contest, food trucks, and more!
Whidbey Island Cider Festival
September 30, 2023
Coupeville, WA
Check out the Whidbey Island Cider Festival. They strive to build community while highlighting the locally crafted ciders, meads, spirits and beers of their beautiful island. Come and see what Whidbey Island has to offer in locally crafted ciders, brews, spirits and mead!
Cider Week New York
October 6-15, 2023
Throughout New York State
Glynwood launched the inaugural Cider Week in 2010 as an outcome of a travel exchange between French and American cider producers. Distinctive products like hard cider evoke a local food culture and sense of place that is closely tied to agriculture in addition to garnering more profit for farmers. Recognizing these opportunities while addressing the still-real obstacles faced by our farming community, Glynwood's goal was to foster a cider market in the Hudson Valley as the linchpin in a chain of positive social, environmental, economic and community benefits. After over 10 years of successful growth, Cider Weeks in New York are now a production of the New York Cider Association, and continue to cultivate an appreciation for New York's orchard-based cider by showcasing NY cider's diversity, food-friendliness, and excellent quality in cider production.
Carolina CiderFest
October 21, 2023
Asheville, North Carolina
Carolina CiderFest will feature ample tastings of hard cider, mead, apple wine, and seltzers along with artisanal food, live music, and workshops, all in the heart of Downtown Asheville. The al-fresco event will be held during the peak of fall colors and the height of the area's busiest tourism season on Saturday, October 21, 2023 from 11:30 a.m. to 3 p.m. at the new, improved, and expanded venue, McCormick Field, home to Asheville's own Tourists Baseball team.
Minnesota CiderFest
October 21, 2023
Minneapolis, Minnesota
The region's premier cider sampling event, Minnesota CiderFest, will feature unlimited samples from the region's best cideries. Join them for cider, food trucks, and music outdoors at Minneapolis Cider Company. Enjoy unlimited samples of unique ciders from your favorite local and regional cideries.
Philly Cider Week
October 21-29, 2023
Philadelphia, Pennsylvania
Since its inception in 2018, Philly Cider Week has connected cider enthusiasts across industries in Philadelphia through thoughtful programming. Cider sales thrive when they have their own section on a menu and our annual week of events allows establishments to experience the viability of featuring ciders more prominently year round and encourages new relationships between small businesses. At its core, PCW's mission is to educate and raise the awareness of cider as an agricultural beverage.
Franklin County CiderDays
November 3-5, 2023
Franklin County, Massachusetts
The folks at Franklin County CiderDays are beginning the process to reinvigorate the apple and hard cider festival you know and love! Plans are afoot to present a full slate of activities on the first weekend of November for the 29th incarnation of this beloved event – November 3 – 5, 2023. Stay tuned for more details.
Virginia Cider Week
November 10-19, 2023
Throughout Virginia
Virginia Cider Week started in 2012 when the Virginia House of Delegates and the state Senate passed House Joint Resolution 105 to designate the full week before Thanksgiving as Cider Week in Virginia. Since then, cideries across the Commonwealth have celebrated Virginia Cider Week through festivals, tastings, pairing dinners, workshops, and open houses at venues throughout the state. Virginia Cider Week is a great time to celebrate the growth and variety of the Virginia cider industry.
Oregon Cider Week
January 13-21, 2023
Throughout Oregon
Oregon Cider Week Special Edition is happening in conjunction with CiderCon® 2024, hosted in Portland, Oregon. The Northwest cider community will welcome visiting conference attendees, media, buyers and cider fans at a wide variety of not-to-be-missed events. Save the date(s) and stay tuned!
Don't see your festival on here? Let us know!