Third Exam of 2022 Welcomes Eight New Certified Pommeliers™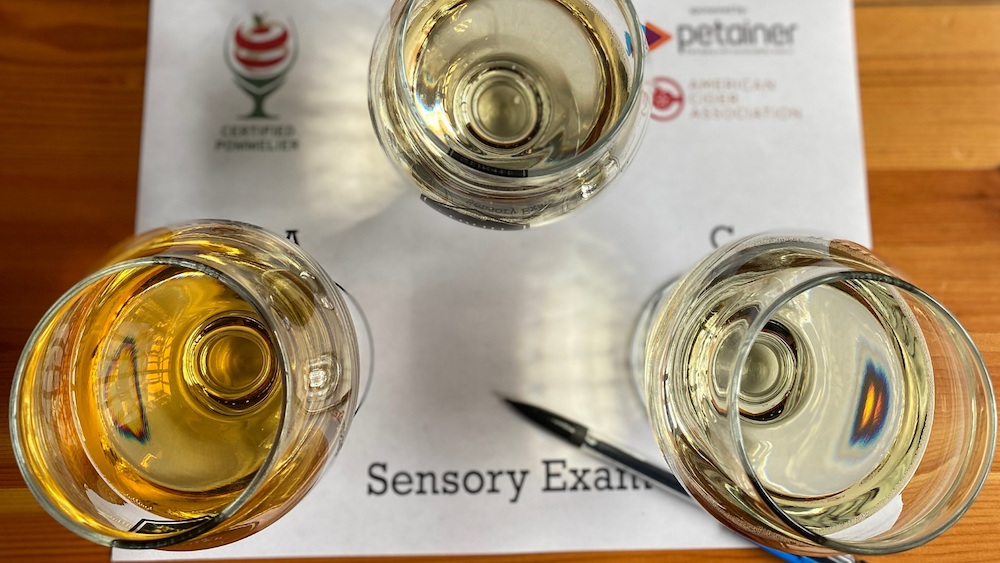 The American Cider Association announced on September 15, 2022 that they awarded eight new beverage professionals with the esteemed title of Certified Pommelier™. The new cohort passed the required exam on August 18 at the Angry Orchard Innovation Cider House in Walden, New York. The new Certified Pommeliers™ are from New York, Virginia, North Carolina and Russia. From New York are Elissa Booth, Joe Gaynor, and Matt Wynkoop of Angry Orchard; Paige Flori of Boutique Wines, Spirits and Cider; Meredith Collins of the blog Along Came A Cider,; and currently residing in New York–cider enthusiast Marina Borsalina from Russia. From Virginia is Joshua Corl of Back Bay's Farmhouse Brewery, and from North Carolina is cider enthusiast Adam Snyder.
Cider is a beautifully nuanced beverage with a diverse set of elements that are often misunderstood by food and beverage professionals. Certifications are increasingly used in the professional realm to set oneself apart as an individual with specialized knowledge, though cider is often covered in a cursory manner by most certification programs, if at all.
"At the center of what we do at Angry Orchard is innovation, and education is at its core. We were thrilled to host a Certified Pommelier™ exam on the East coast and give more industry members the opportunity to advance their education," says Will Loughlin, Certified Pommelier™ and Assistant Cidermaker at the Angry Orchard Innovation Cider House. "We see the Pommelier certification as an excellent tool to highlight exceptional individuals, as well as the cider industry as a whole. We're thrilled to see interest in the exam growing and gaining more standing alongside wine and beer programs."
The American Cider Association established its Certified Cider Professional (CCP) program in 2016 to educate those on the front-line of cider sales. The program began with a Level 1 certification to help those in the industry develop a fundamental understanding of cider. Recently, the ACA was pleased to celebrate 2000 Certified Cider Professionals.
The Certified Pommelier™ certification was developed to move beyond a fundamental understanding and to encourage cider professionals to think critically while demonstrating a higher understanding of the elements of cider. The rigorous test consists of five types of questions: short answer, fill in the blank, matching, essay and blind sensory (based on tasting).
"The Certified Pommelier™ exam is designed to be challenging, " says Michelle McGrath, Executive Director of the ACA. "However, accessibility remains important. We're rolling out more and more study aids in 2022, with a book on the horizon."
The next Certified Pommelier™ exam is planned for February 1, 2023 at CiderCon® 2023 in Chicago, Illinois. You can learn more and register for the exam at CiderCon® 2023 on the ACA website.
The ACA asks that you contact Cider Education Outreach Manager Jennie Dorsey if you have questions about the program or are interested in taking either the Level 1 Certified Cider Professional test or the Certified Pommelier™ exam. You can also learn more at https://ciderassociation.org/certification.
###