Reserve Your Trade Show Booth for CiderCon 2022!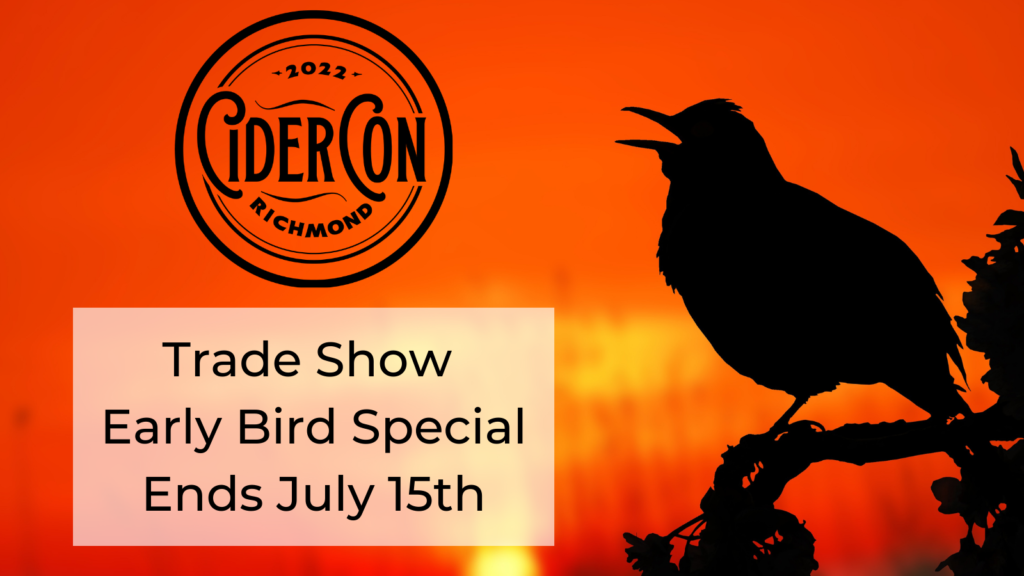 The American Cider Association is thrilled to announce that CiderCon® 2022 will be held in-person in Richmond, Virginia from February 1-4, 2022! Not only that, but we're ready to start taking reservations for our Trade Show. You can book your booth from June 15 – July 15 at the early bird price of $2375.
In addition, the ACA would really like to thank our allied trade members who have sponsored us in the past, those who have been exhibiting with us the longest, and those who took a chance and participated in our extremely successful virtual CiderCon® in 2021. To show our gratitude, we've implemented a points system that thanks CiderCon® vendors by gifting loyalty points that move you up the priority list for selecting your preferred Trade Show booth space.
Points are assigned based on:
Longevity in the show – 1 point per year of participation in the trade show
Taking part in the virtual conference – 2 points
Reserving and paying for your booth during our discount period – 1 point
Sponsoring the American Cider Association – Points assigned on case by case basis
Speaking of sponsorship…
Supporting the American Cider Association is a great way to gain brand visibility at CiderCon® and beyond. There are a myriad of reasons why sponsoring the ACA works in your favor. We shout out our appreciation for our sponsors far and wide at CiderCon®, on our website, on social media and beyond and our members hear us. Our Executive Director Michelle McGrath is eager to work with you on creating a custom sponsorship experience that meets your brand's personality and needs. You can schedule a 30-minute face to face meeting with our Executive Director here. Have your eyes on certain CiderCon® branding real-estate? Fill this short form out and we'll follow up ASAP!
What Next?
Register HERE! We're really looking forward to working with all of you and seeing you next February in Richmond!
Looking to become a CiderCon® vendor for the 1st time?
Please contact Ellen at tradeshow@ciderassociation.org to learn more!