Regional Cider Resilience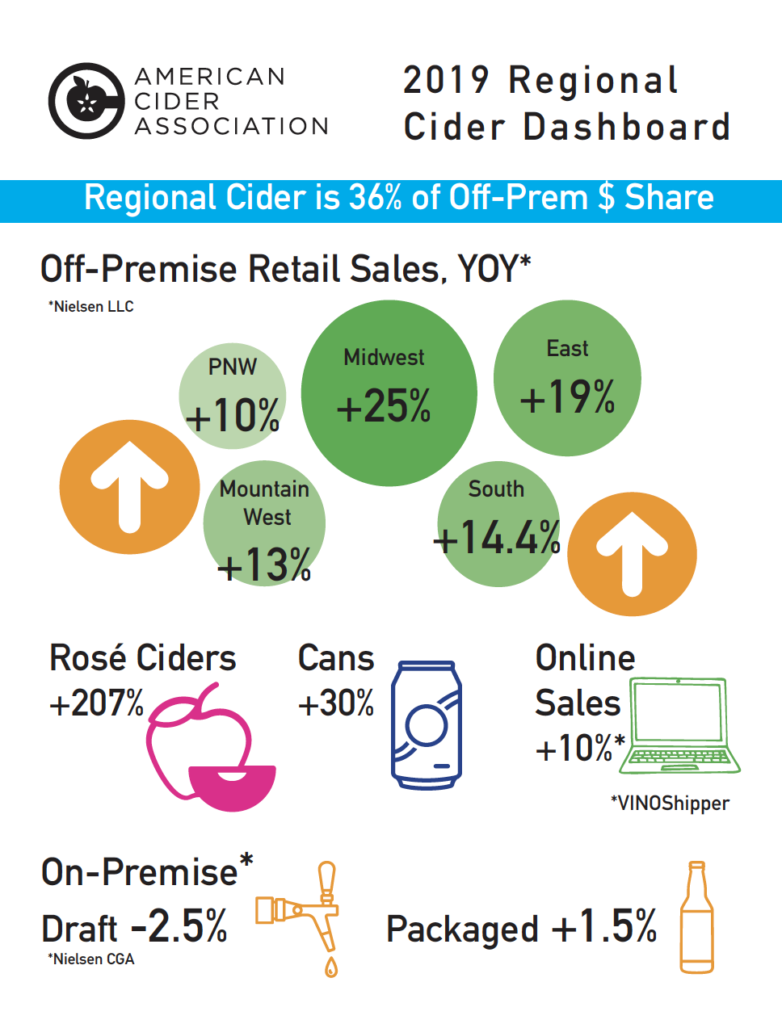 According to our partners at Nielsen, 2017 ended with soaring regional cider brand growth yet slight overall negative off-premise cider sales from the year before. Two year laters, annual total off-premise sales for 2019 were 6% higher than at the end of 2017. In a world where year over year or quarter over quarter is the easiest number to grab, important nuances sometimes get left behind.
For example, hard seltzer grew over 200% last year. You know what else grew over 200% last year? Rosé cider offerings from regional brands.
So before anybody starts citing "total cider sales" as being on a slight decline for 2019, make sure you point out the continued double digit growth (several years counting now) for regional and local cider brands. There are success stories for national brands too. We are not represented by one number and cider is finding sustainable growth.
More data is available for you. Nielsen trends and webinars are complimentary benefits to all American Cider Association members. The data is broken down by 24 regional markets for off-premise and on-premise details are also provided. It's further broken down by packaging and flavor and national/regional brands. Nielsen also shares quarterly reports highlighting trends. Webinars, CiderCon presentations (including Nielsen's), data and more can all be found after logging into our website with your active account.
We know that Nielsen data doesn't take everyone's sales into account, but we also know it does tend to reveal major trends. To complement Nielsen data, we are working to create new partnerships for your benefit with nontraditional data sources.
Our friends at Vinoshipper are a great example of the potential stories we can tell with alternative data (you can find Vinoshipper's CiderCon presentation on our membership website after logging in). Their cider sales increased 10% last year. That's direct to consumer cider sales!
My point? CIDER IS STILL GROWING and that's the story we have to be sharing.
P.S. Have you sent your UPCs to Nielsen? ALL OF THEM? Please make sure you are being counted! Contact Nielsen to submit your labels.