Meet Your Board Member: Christine Walter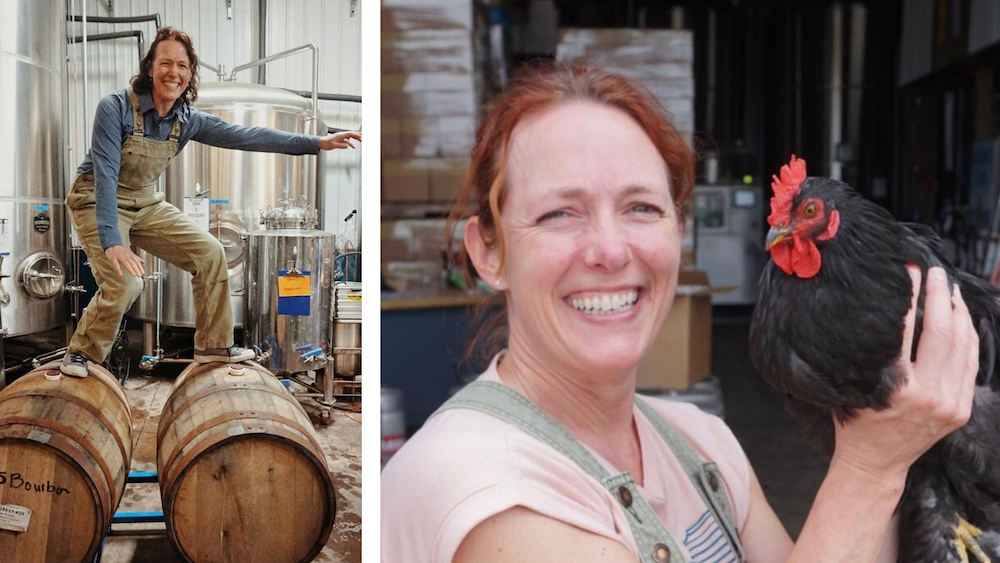 Where do you work and what is your position?
I am the owner and head cidermaker at Bauman's Cider in Gervais, Oregon. I started the company in 2015, making cider on my family's farm.
Tell us about your family farm/orchard.
My Great Great Grandmother Elizabeth homesteaded the original property back in 1895, having come from Austria-Hungary by way of North Dakota, with her two sons. Today we have nearly 1000 acres under cultivation, and about a dozen family members playing one role or another in farming, operating the farm store, and now, making cider!
We grow a wide variety of crops, including many cane berries, hazelnuts, fruits and vegetables. Currently we have about 22 acres of apple orchards.
How did you get into cider?
The first time I drank a bottle of cider was around 2013. I was on a fishing trip in rural Alaska and the beer selection was pretty slim. I ordered an Angry Orchard and it literally shocked me that it was basically fermented apple juice. Upon returning home to Portland, I began searching out all of the local craft options and just fell in love. I immediately started trying to convince my family that one of them should make cider on the farm with our own juice. In attempting to make the case for cider, I met makers and heard their stories, and began taking home gallon jugs of my family's cider, experimenting and developing recipes.
My cousins didn't get the cider bug right off, the way I did. But I convinced them to trust me and let me get a license and start with a little corner of one of the barns. Now I can't get enough space and I take more than half of the apples grown on the farm to make cider, and I love it!
Why did you decide to run for a position on the board?
I really appreciate the role that the ACA plays in advocating for cidermakers. It is really important work and mustn't be taken for granted. In my short tenure as a cidermaker, I have seen some really significant changes to the rules regarding land use, alcohol production and labeling, and taxation. Those changes don't happen on their own, and not without a lot of work and planning from people who really care about the industry. I want to be part of that work. If we don't fight for our own interests and values, no one will.
Additionally, I see that webinars and events like CiderCon® are what shape the future of the industry in keeping cidermakers and cider sellers at the top of their games professionally and educationally. If we are all left in our own little islands of knowledge and experience, we miss out on a lot of growth opportunities. CiderCon® is a big part of what will keep us as an industry moving forward, growing, adapting and innovating.
What are your hopes for the future of the US Cider Industry?
Of course I want to see it continue to grow, but also to be seen as a success story with regard to adaptation to changing climate and market conditions. We are perfectly poised to thrive. Apples have an amazing and diverse biological history. They have stood the test of time again and again, both through natural evolution as well as human-aided adaptation and hybridization/breeding programs. I hope that cidermakers can be as resilient and creative as an industry as our dear fruits have shown to be.
How do you describe your cider region?
I feel pretty darned fortunate to be from the Pacific Northwest. We not only have a nearly rogue sense of adventure, but the market supports this level of innovation and aversion to staunch traditionalism. Just as nature favors adaptation and evolution, the craft beverage market in this beautiful corner of the US appreciates and even demands that we always push the edge of what has been done before, in search of new frontiers of culinary and beverage experience.
At the risk of seeming irreverent, the culture of cider in the PNW can be said to take traditional methods and turn them on their heads, or maybe interpret them through a lens of kaleidoscope.
What's your favorite apple to work with and why?
That's a big old three-way tie between Porter's Perfection, McIntosh, and Mountain Rose (aka Airlie Red). And even in saying this terribly non-committal response, I feel guilty for not saying Yarlington Mill, or Golden Russet, etc. I'm not good with decision making. Maybe my favorite apple is the one I'm picking or fermenting right at the moment…and I spent yesterday mulching my McIntosh trees, then cracked a bottle of last season's McIntosh SV, so we can say that one for today.
What is your favorite cider/food pairing?
Ok, I think I can commit here: CHEESE! and most any cider. One specific favorite combo is a French Comte and a juicy acidic Porter's Perfection Cider.
What is your favorite nature/cider pairing?
Summer paddle boarding on the river with dear friends, sipping a Cosmic Crisp by 2 Towns (in a life jacket.) Doesn't get much better.
What would you like our members to know about you that they might not know?
Once I spent the night in a hammock, alone, in the jungle of Tikal, Guatemala so that I could watch the sunrise from the top of Temple IV. I am certain that the only reason I was not eaten or attacked by wild animals was that they were in complete awe at my stupidity. I could see their eyeballs watching me.