In Person CCP Level 1 at Angry Orchard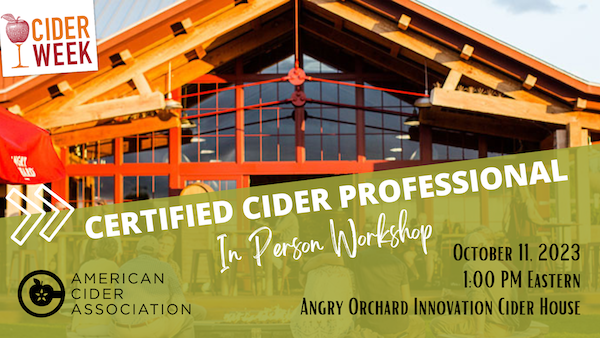 Are you ready to take your passion for cider to the next level? Join us at Angry Orchard Innovation Cider House during New York Cider Week for an in-person Certified Cider Professional Level 1 certification workshop! We are thrilled to collaborate with the American Cider Association to bring you this amazing opportunity to become CCP Level 1 certified.
During the workshop, you will learn about the history of cider, the cider making process, and the different styles of cider. This workshop also features a Certified Pommelier™ led tasting experience featuring New York Ciders! After the training, participants can take the test online immediately (BYO computer) or at a later date.
The cost per person for this fantastic experience is $65, which includes the test fee. But that's not all! Lunch and, of course, more cider will be available for purchase at our tasting room after the training.
We would love to see anyone who sells cider, works in a tasting room or retail shop, owners, chefs, sommeliers, cicerones, buyers and cidermakers who are interested in cider education and adding a cider certification to their accreditation sign up and join us!
Space is limited, so register now and get ready to become a Certified Cider Professional!