Get to Know Your New Board Member: Philippe Bishop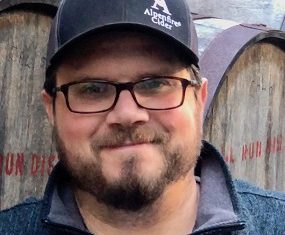 Meet Philippe Bishop, who was elected to the board as an at large member in 2020!
Where do you work and what is your position?
I am a partner with my folks at Alpenfire Cider, primarily I handle our sales, designs and the marketing side of things… But as every small business owner I wear many hats when needed. For instance, I'm currently sitting on the ferry heading over to the orchard to off-load a trailer of bottles for our 2019 releases.
Do you work in cider full time? If not, what is your other job?
I am with Alpenfire full time.
How did you get into cider?
I blame my parents . My first sips of cider that I remember were around 1990 sailing up in the Gulf Islands of British Columbia. It was super sweet, came in a 2 liter plastic bottle and was flavored with peach or berries or something. Perfect for my young palate. That sparked my interest, then when we decided to get into the business and feeling the connection to the land after years of clearing it, working the soil, and planting trees is really what firmed up my love for cider. As time and Alpenfire progressed we needed ways to sell it, I jumped on that and haven't looked back.
Why did you decide to run for a position on the board?
I am passionate about the cider industry and felt I could help give a voice to the über small orchard based producers out there.
What are your hopes for the future of the US Cider Industry?
For cider to grow, from the trees to the glass. I would like to see the industry help spur a younger generation into growing trees and working the land. I would like to see the cider lexicon educate the buyers, the media and the influencers, plus help consumers find a cider they like and realize not every cider is the same. I want people to want to learn about cider, know their apples and celebrate the differences from large to small and urban to orchard based producers like us.
How do you describe your cider region?
We have a lot of passionate good people up here making primarily modern interpretations of cider spurred by an abundance and availability of eating apples. It has closely followed the beer industry and the term "innovation." I'm not a big fan of that word but it seems to fit where we are. We as a whole have done a great job of offering a wide selection to the consumers. That has paid off by a fair amount of shelf space and lots of taps dedicated to local cider but I feel we have a ways to go on the educational front and helping people to better understand cider.
What's your favorite apple to work with and why?
Our Foxwhelp apple. It may not be the "real" one but it has all the great characteristics of the traditional bittersharp apple and does very well in our orchard. It is also a very large apple, so easy to pick though they have gotten smaller as our orchard has matured. It ferments well, and given the proper time (roughly 1.5 years), makes a stellar single varietal cider!
What is your favorite cider/food pairing?
Too many to list really! I believe what grows together goes together and being in the maritime climate 1/2 mile or so from the beach I really enjoy most seafood with our Pirates Plank Bone Dry. The earthy tannins, subtle acids, and hints of salinity make things like oysters POP!
What is your favorite nature/cider pairing?
Our Ember Bittersweet by the glow of a campfire.
What would you like our members to know about you that they might not know?
There's life outside of cider? My wife Shannon and I live in Seattle with our kids Sierra & Cortland along with our old cranky dog Zephyr. I love and crave being outdoors, specifically either deep in the woods or at the beach. The further away from crowds I can get the better.
Learn about the rest of your board members HERE!