Get to Know Your Board Member: Talia Haykin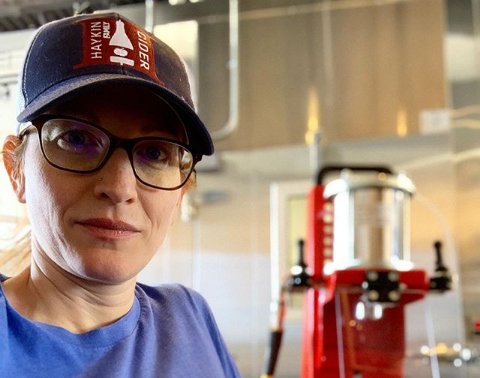 Here's another installment of Get to Know Your Board Member. Meet Talia Haykin, representing the Mountain West Region, including the states of Arizona, Colorado, New Mexico, Nevada, Utah, Wyoming, South Dakota, North Dakota, Kansas, Nebraska, Oklahoma, and Texas.
Where do you work and what is your position?
I own Haykin Family Cider with my husband Daniel. He is the cidermaker and I basically do everything else. We joke that I am the CEO/COO/CMO/CFO/CSO and any other C's you can think of along with – salesperson, packaging expert, club manager, inventory specialist, and occasionally, bartender.
Do you work in cider full time? If not, what is your other job?
These days I mostly work in cider though I maintain my freelance business doing marketing, social media strategy, content creation, and occasionally website building. Oh and being a mom. That's my other full time job.
How did you get into cider?
It was a complete accident. We made our first batch on October 30, 2013 just for fun and it spiraled into a business. We swore up and down that we would never professionally make cider and here we are.
Why did you decide to run for a position on the board?
I have worked in non-profit management for a long time. My last position was as the CMO of a large Jewish non-profit. I have worked in conjunction with and served on boards for a long time but not in the past few years. I worked with Michelle and the marketing committee as well as the CiderCon committees and really enjoyed it.
What are your hopes for the future of the US Cider Industry?
I hope we will be fully recognized as a legitimate and historical beverage. I hope people will see the stratification of our industry in similar ways that they view wine, beer, and spirits. There's something for everyone and it doesn't always boil down to "dry" and "sweet."
How do you describe your cider region?
Impressive. Not only from a cider perspective (Colorado really pulls our weight at competitions and on the market) but also from an apple perspective. We grow exceptional fruit here in Colorado. Sometimes an early or late frost knocks us out completely but when we have the apples, they are amazing.
What's your favorite apple to work with and why?
Tough question. Since we focus on single varietals, we get 40+ different apples to work with plus small batches of things that go into our blends. Honestly, my favorites are the ones that I can bring home to my kids. In season, we always have a huge box of Akane or Esopus Spitzenberg apples at our house. They also happen to make exceptional ciders.
What is your favorite cider/food pairing?
Again tough question. Daniel and I tend to focus so much on the flavor profile of the cider that we forget to eat with it. However, we have worked with some awesome chefs and foodies. Maybe cheese and cider? We did an awesome five-course cheese pairing with my friend Colleen from Behind the Rind and I was able to taste incredible flavors in both the cheese and cider that weren't there on their own. I also like a cider that pairs well with a full meal. Our 2018 Dabinett was so awesome – we brought a magnum to Thanksgiving dinner and it paired perfectly from appetizers to dessert!
What is your favorite nature/cider pairing?
I do love chilled cider in a sparkling wine glass at a nice hotel in the mountains… 😉
What would you like our members to know about you that they might not know?
Coming from a family of generations of rabbis, my dad hoped I would follow in his footsteps but I was dead set on pursuing acting. Before marketing and cider, I was a professional actress. There's still a video from a commercial I did for CZ-USA floating around the internet.
Get to know the rest of your board members at Who We Are.