Cider Share at CiderCon® 2024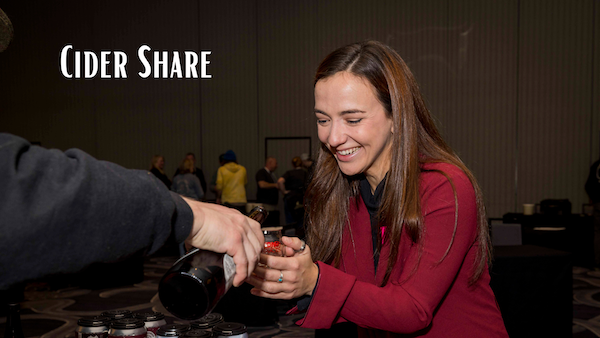 Get ready to raise a glass and toast to the start of CiderCon® 2024! Join us for our beloved welcoming reception, Cider Share, on Wednesday, January 17 from 5:00 to 7:30pm. Sip on some of the finest ciders while mingling with fellow cider folks from around the world. Whether you're a seasoned cidermaker or a newbie to the industry, the Cider Share reception is the perfect opportunity to connect with like-minded individuals and kick off an unforgettable conference.
At Cider Share, attendees will have the chance to sample ciders from a variety of cidermakers from all over. Not only will you get to enjoy a wide variety of flavors and styles, but you'll also have the opportunity to learn about the ciders from the cidermakers and their staff. Plus, with 600 people in attendance, Cider Share is a great way to connect with other cidermakers from your region and mingle with fellow CiderCon® attendees.
Tickets for Cider Share are only $20, so be sure to add it to your registration process before it's too late!
And if you're a cidermaker yourself, consider applying to pour your ciders at Cider Share. Cideries will be chosen through a lottery system, with considerations given to geography and style. Fill out the application form here. Deadline to apply is October 31 or when space has filled up. Two pourers will be allowed per company. All other company employees must purchase tickets to attend Cider Share.