Americans Are Stocking Up on Cider
It's no secret that shopping patterns have dramatically changed since it became clear that the Corona virus was here. The subject of endless memes, grocery shelves–especially the toilet paper section–are picked clean as people stock up for the long haul. According to Nielsen's off-premise sales data, consumers are also stocking up on cider.
Off-premise sales in the channels measured by Nielsen show cider retail sales up 22% for the week ending on March 14 compared to the week ending on March 7. Other segments of beverage alcohol also saw increases.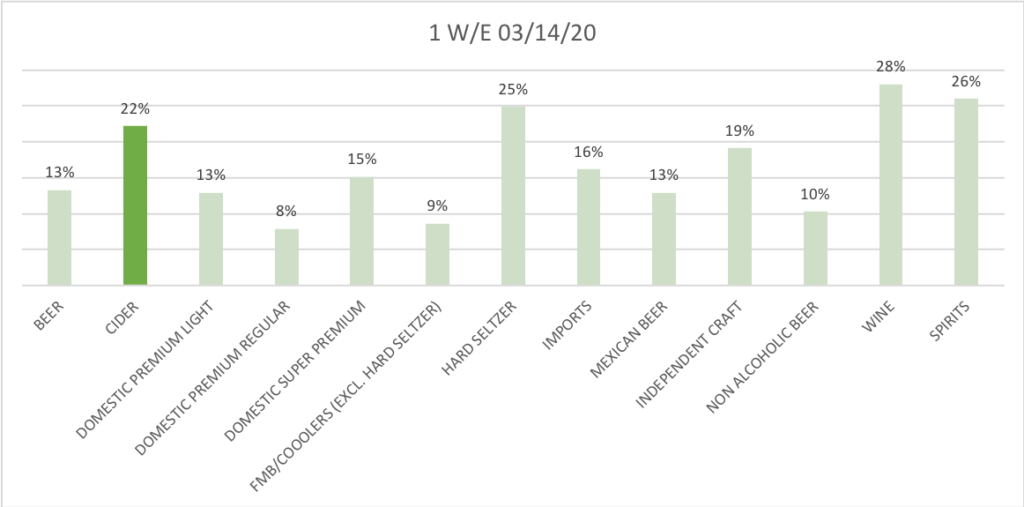 Changing Retail Landscape
American Cider Association members across the country have seen sometimes dramatic changes in how their customers are buying cider. Offering local delivery has earned more dollars than previously average taproom earnings for many smaller cideries. It will be interesting to speak with online retailers to see how e-commerce shopping patterns change for cider in the coming weeks.
In an average year, on-premise sales account for roughly 60% of cider's total sales according to Nielsen CGA (compared to 40% for beer as estimated by the Brewer's Association). This 60/40 breakdown of on-/off-premise sales for cider doesn't include cidery taproom or independent retailer sales. Still, it's safe to say we will see a dramatic shift in on-premise's dominance in cider's marketshare in the coming weeks. Expect to see business model adaptions to continue and include curbside, delivery and online retail.