We're Looking for Vendors for CiderCon® 2024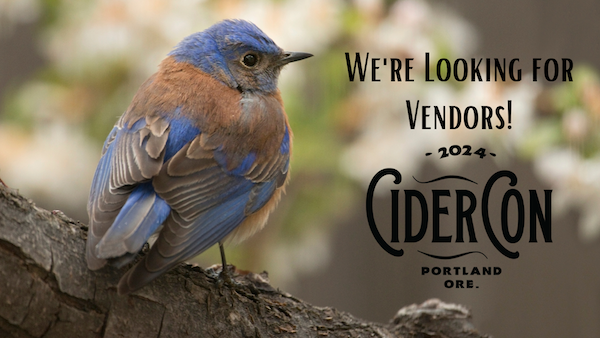 Did you know that the largest gathering of cider producers in the world is coming to Portland, Oregon next January for CiderCon® 2024? In addition to a wide range of educational sessions and events for cider producers, we also host an extensive trade show where our attendees can meet vendors with products and services that can help them thrive. CiderCon® 2024 will be held at the Oregon Convention Center from January 17-19 and the trade show will be right in the middle of it all. We haven't been back to Portland since 2016, so we're anticipating a great turn out!
If you haven't been a vendor at CiderCon® before, now is the time to get involved and showcase your products and services to the rapidly growing cider industry. Our attendees always appreciate the chance to meet new vendors.
Have you already been a vendor at CiderCon®? Then you already know how much our attendees love the trade show and seek it out to connect with you!
Booth prices for CiderCon® 2024 are $3000 for a 10' x 10' space – and that includes 3 passes to the conference as well as lunch on Thursday and Friday!
Interested in joining us? Email our Trade Show Coordinator Ellen Husch for more information!
Know a company that you think would be a great fit? Send their contact information to Ellen.
There are also numerous sponsorship opportunities available for vendors. Supporting the American Cider Association is a great way to gain brand visibility at CiderCon® and beyond. There are a myriad of reasons why sponsoring the ACA works in your favor. We shout out our appreciation for our sponsors far and wide at CiderCon®, on our website, on social media and our members hear us. Our Executive Director Michelle McGrath is eager to work with you on creating a custom sponsorship experience that meets your brand's personality and needs. Email Michelle to schedule a meeting.