Volunteer at CiderCon® 2024!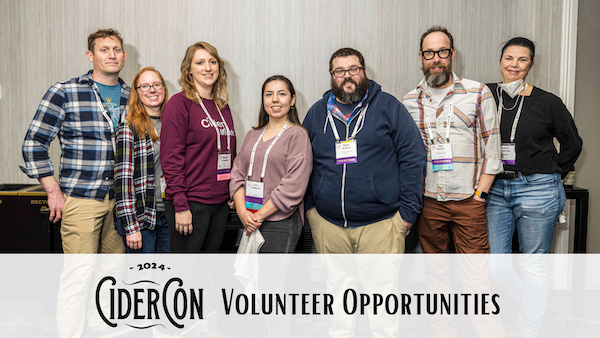 Fall is here and with the apples being picked all over this fair country, we can't help but think of all the new ciders that will soon be bubbling away in fermentation vessels! Which also brings to mind the pleasant thought of another CiderCon® in the works! This year CiderCon® will once again be held in Portland, Oregon after an eight year hiatus. We're already lining up an amazing assortment of tours, trainings, tastings, and educational sessions, not to mention the trade show, that we hope will help cidermakers thrive in 2024 and beyond. That being said, it takes a village to put on CiderCon® and we're asking for your help. We are looking for volunteers for CiderCon® 2024 in Portland and we would love to have you join us!
Who's Elegible?
Are you a cidery making less than 25,000 gallons?
Are you a cider enthusiast who would like to meet some of your favorite cidermakers?
Are you a cidery in planning interested in learning from fellow cidermakers?
Then you are elegible! If you have questions about whether or not your eligible, email Woodley.
What's expected of you as a volunteer? 
It's simple! 5 hours of your time between Monday, January 15 and Friday, January 19, including serving for at least 2 tastings (if physically able) within those 5 hours. That's it!
What's in it for you? 
Tons! Your registration fee for CiderCon® will be waived! All general sessions and workshops will be open to you. While this does exclude paid tours or tastings, you will still be able to sign up and pay for these opportunities when you register for CiderCon®. That means that other than your volunteer shifts, the rest of the time is yours to check out the amazing sessions, tastings, trade show, etc. that make CiderCon® so wonderful to attend!
How do I sign up?
Please sign up on Bloomerang Volunteer if you're interested in volunteering at CiderCon® 2024! Our Volunteer Coordinator, Woodley Smith, will be in touch with you as soon as more details are firmly in place.
If you have any questions, please contact Woodley Smith.