CiderCon® 2024 to Be Held in Portland, Oregon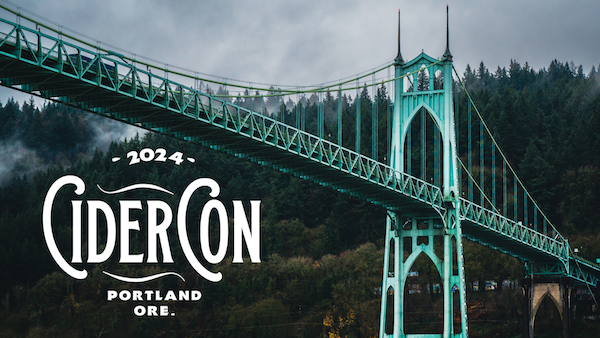 ACA Brings Largest Cider Conference in The World to The "City of Roses"
October 4th, 2023 (Portland, OR) – The American Cider Association is pleased to announce that CiderCon® 2024 will take place in Portland, Oregon from January 16-19, 2024. The largest cider conference in the world, CiderCon® 2024 will bring more than 1000 attendees to the city and surrounding areas for tours, tastings, educational workshops, networking opportunities, a trade show and more.
"It's been eight years since we held CiderCon® here, and we're thrilled to be back in the City of Roses," says ACA CEO, Michelle McGrath. "Portlanders drink more cider per capita than any other city, so visiting attendees will feel right at home," adds McGrath. This year, visiting attendees include Swedish and Norwegian cidermakers who are at the forefront of their own cider renaissance. "There's a cider revolution going on in the Nordics, so we're looking forward to sharing their experiences and ciders with attendees."
The conference coincides with Oregon Cider Week (January 13-21, 2024), a statewide celebration of cider, featuring events for both aficionados and the cider-curious, hosted by the Northwest Cider Association (NWCA).
The two trade non-profits have been working with teams on the ground in the state of Oregon and beyond to create several tour options for CiderCon® attendees and media, including overnight adventures that explore both Oregon and Washington cidermaking regions. Together, the two states produce about 70% of the country's apples, and are home to 165 cideries, making the area ripe for sourcing talent for the educational sessions.
A full range of workshop sessions will cover cider production, marketing, sales, branding, sensory evaluation, compliance, business strategy, orcharding and more. The ACA will once again partner with the Cider Institute of North America (CINA) to develop the cider production sessions.
"Despite increasing competition in the beverage alcohol space, cider has maintained its status as a mainstay beverage category, with year after year growth in local and regional cider brands across the country," says McGrath, referring to cider's growing popularity nationwide. In fact, regional and local cider was up 10.4% for the 52 week period ending on September 9th for chain retail measured by NIQ via 3 Tier Beverages.
The extensive trade show, presented by long standing ACA partner FruitSmart, will feature more than 100 vendors and be held at the Oregon Convention Center, with accommodations and other activities provided at the Hyatt Regency Hotel located just next door.
Tickets to CiderCon® are available now and are $435 for ACA members and $725 for the public, when booked by December 4th. After that date, member registration rates rise to $500 and public tickets go to $800. Ticket price includes the opening general session on Thursday morning, access to educational sessions, networking events, the trade show, and lunch on Thursday and Friday. Bulk pricing is available for groups of 5 or more.
More information about the wide array of events and educational sessions being offered as well as registration can be found on the CiderCon® website, and follow @cidercon on X or @pickcider on Instagram for the latest news. CiderCon® is an ACA event produced with the generous support of our members and ACA's premier sponsor, FruitSmart. 
###