CiderCon® 2021 Fact Sheet
While CiderCon® 2021 may have had a different feel due to the necessity of transitioning to a virtual platform, it was undoubtedly an unparalleled success!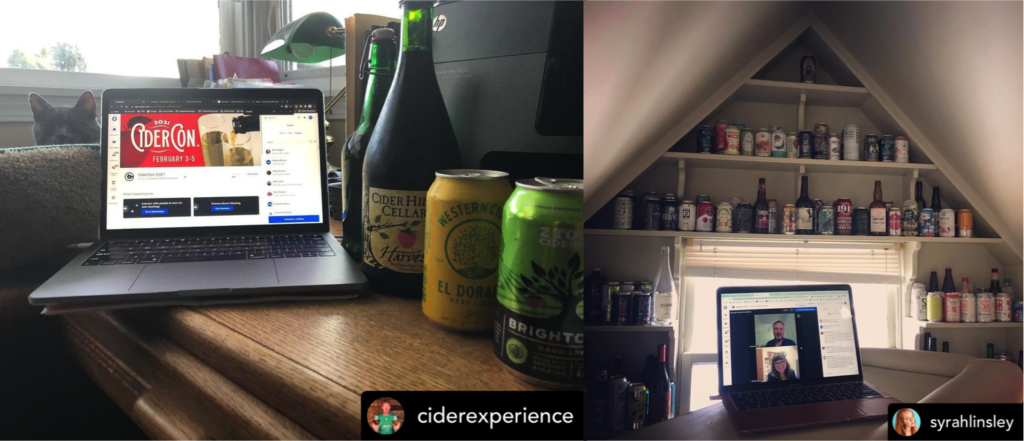 CiderCon® 2021 took place on the virtual platform Hopin from February 3-5, 2021. The schedule can be downloaded here. Instagram Highlights available here.
793 people attended the conference via their computers from around the world.
41 states and the District of Columbia were represented, with Oregon, New York, California, Colorado, Michigan, Virginia, and Washington having the most attendees.
18 countries were represented, with cider professionals from the US, Canada, Mexico, Thailand, Australia, New Zealand, Japan, Russia, South Korea, Finland, Norway, Denmark, Netherlands, Germany, United Kingdom, Ireland, France and Italy all in virtual attendance.
47 vendors took part in the virtual Trade Show, sponsored by Fruitsmart, with resounding success. Many provided live virtual demonstrations of their product offerings and interviewed cidermakers who were using their goods and services.

Four keynote speakers graced the virtual main stage, sponsored by Fintech, over the course of the conference. They were:

Anna Nadasdy of Fintech Infosource who opened the conference with a discussion of what consumer trends in 2021 might look like and how businesses can stay agile in a tumultuous climate.
Justin Doggett of Kyoto Black Coffee who discussed the need for businesses to support one another during the pandemic and beyond and suggested innovative ways in which to do so.
Michael Uhrich of Seventh Point Analytics Consulting who discussed, not only the importance of analytics to businesses, but practicable ways in which cider professionals can do assessments in house.
Dr. J Nikol Jackson-Beckham founder of Crafted for All who closed out the main stage presentations with concrete ways in which businesses can create sustainable inclusion, equity, and justice strategies and put them into practice.

The Cheers & Chat Networking sessions allowed attendees to be randomly matched with someone for a speed dating style virtual meetup. Hundreds of people took part in Cheers & Chat and new cider professional friends were quickly made.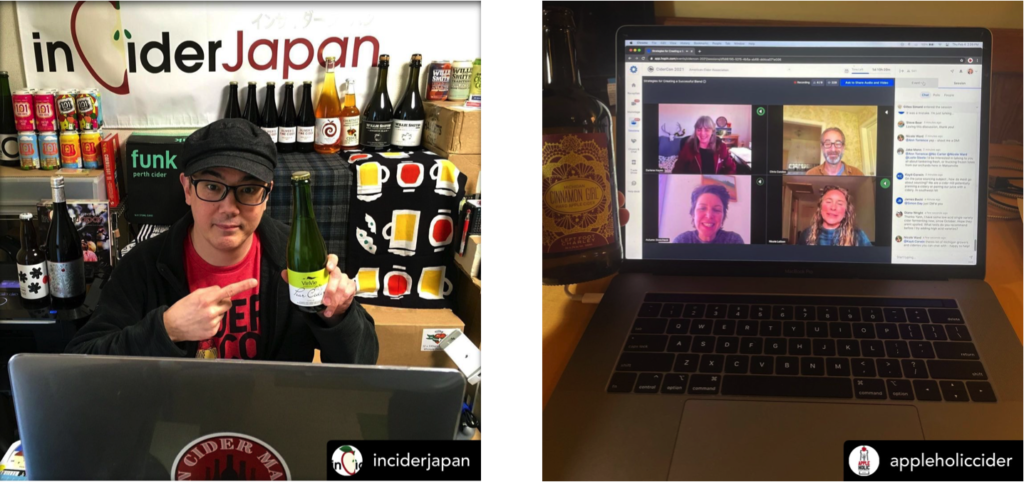 The American Cider Association once again partnered with the Cider Institute of North America to develop a range of in-depth, production oriented sessions for cidermakers. Every single session in the production track had more than 100 attendees and several topped 200 people. Sessions included co-fermentation in natural ciders, factors to consider when making sparkling cider, quince fermentation, improving the shelf life of canned ciders and strategies for creating a successful blend. The Cider Institute of North America trains cider makers through their educational programming in partnership with universities like Cornell.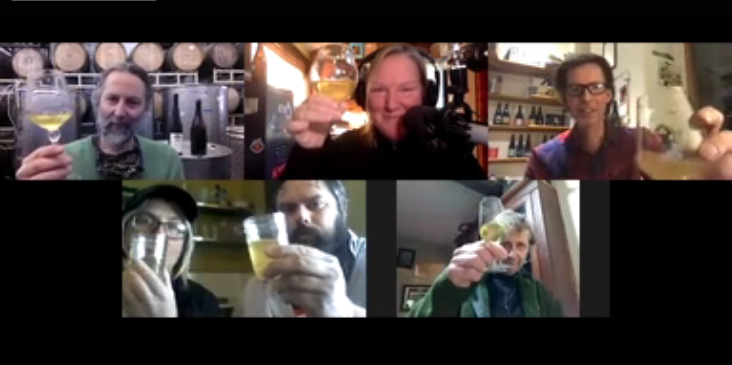 VIP packages purchased by attendees raised $1000 for the Cider Institute scholarship fund, whose goal is to offer tuition-free education to Black, Indiginous and People of Color covering the fundamental aspects of cider production through their online training.
The Pomme Boots Society once again partnered with the ACA to provide unique content this year, including a session from Samantha Lee, co-founder of Hopewell Brewery, who shared how her progressive craft brewery flipped the script on traditional craft brewery business by putting people over profits. Pomme Boots Society is a volunteer run organization for women working in the cider industry. The Pomme Boots Society annual meeting featured Lee, and speakers from the Pink Boots Society, and had close to 200 people in attendance.
Five legal and compliance sessions were also offered. Four of these sessions were led by employees from the TTB, the federal agency responsible for regulating cider taxes and labels. In addition, TTB employees hosted a virtual booth in the Trade Show that saw over 200 attendees stop by to discuss the finer points of legal regulations.

The American Cider Associations annual board elections happen concurrently with CiderCon®. Newly elected board members were presented prior to the Grand Toast. Soham Bhatt of Artifact Cider was elected to his first term on the board in an At Large seat, Brooke Glover of Swilled Dog Hard Cider was re-elected as an At Large member, and Ryan Burk of Angry Orchard was re-elected as a Large Cidery member.
In addition, new board officials were installed with Eleanor Leger of Eden Ciders taking the helm as president, Brooke Glover of Swilled Dog Hard Cider as vice-president, Marcus Robert of Tieton Cider as treasurer, and John Behrens of Farmhaus Cider as secretary.
CiderCon® 2022 is scheduled to take place in Richmond, Virginia from February 1-4, 2022.