Beer Kulture, ANXO Cider, and The American Cider Association Partner to Increase Diversity in the Cider Industry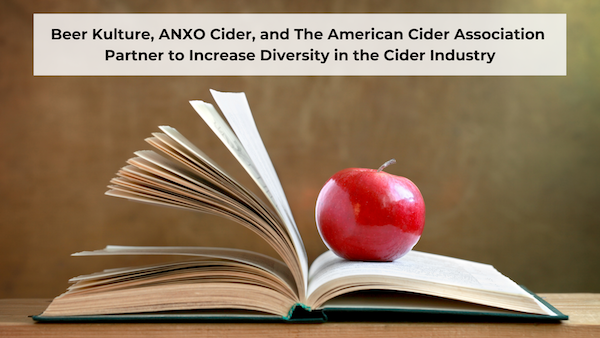 ANXO, Beer Kulture Kollaboration Cider Will Help Fund Cider Scholarships
Beer Kulture, ANXO Cider, and the American Cider Association have partnered to introduce three scholarship opportunities designed to bring new Black, African American, Hispanic, Latino, Native North American, Pacific Islander, and other BIPOC individuals into the cider industry.
Each scholarship includes:
Certified Cider Professional Level 1 bundle (including the exam)
Two Certified Cider Professional Sensory Webinars
Registration fee for the Certified Pommelier Exam
Registration for the recipient and a guest to CiderCon®, the cider industry's annual conference
Travel to and from CiderCon® for the recipient and a guest
Lodging at CiderCon® for the recipient and a guest
"We're excited to expand into the cider industry with the work we're doing," said Latiesha Cook, CEO and President, Beer Kulture. "The broader alcohol space is large and offers so many opportunities to people of color as consumers, potential industry employees, and future owners that it makes sense for us to start looking at partnerships beyond beer. By bringing more people of color into these industries at every level, it creates new possibilities, not just as workers, but as founders, so they can own a piece of the space and drive the industry forward too. We're really excited to work with ANXO and the American Cider Association for our first official scholarship and kollaboration in cider."
While this is the first official cider scholarship and kollaboration for Beer Kulture, it's not the group's first foray into cider. Last year, the group worked with Michelle McGrath, Executive Director of the American Cider Association, to offer a package of free virtual registrations to CiderCon® 2021 to past Beer Kulture scholarship and internship winners. That package also included the Certified Cider Professional Level 1 exam and workshops.
"Last year's partnership with Beer Kulture went so well that we wanted to continue the relationship with them this year," explained McGrath. "Much like the beer industry, cider has historically struggled to diversify, especially beyond gender. Partnering with Beer Kulture is an opportunity for us to proactively reach people of new backgrounds and welcome them into our industry."
This year, the partnership expanded to include Washington, D.C.'s ANXO Cider.
"We're really focused on doing the work to help move the industry forward," commented Rachel Topelius, co-founder and Director of HR and Community Outreach, ANXO Cider. "When we started talking with Latiesha and Michelle about this scholarship opportunity, we thought about how we could go further and drive more impact. After Latiesha mentioned that past Beer Kulture scholarship winners have given feedback that it can be intimidating being the only person of color at a conference, the idea came up to fund sending a plus one, to make each winner feel more comfortable and welcomed."
The three scholarship packages will be funded by a new cider kollaboration from ANXO, Beer Kulture and the American Cider Association. The cider, a 7.3% ABV dry cider named Kulture, is a unique blend of 50/25/25 Albemarle Pippin, Dabinett, and Harrison apples, developed in conjunction by ANXO and Beer Kulture. The resulting liquid will be juicy with bold and gripping tannins producing a textured mouthfeel accompanied by balanced acidity.
"Kulture contains an exceptional blend of apples," explained Sam Fitz, co-founder and President/Director of Production, ANXO Cider. "All the apples were sourced from Virginia and Pennsylvania within 100 miles of our facility in D.C. They were each then fermented naturally in wood prior to the blending."
Black, African American, Hispanic, Latino, Native North American, Pacific Islander, and other BIPOC individuals interested in the scholarships are encouraged to apply by visiting this LINK.
Kulture, the new dry cider kollaboration, will debut at a release party at CiderCon® on February 2, 2022. Follow ANXO and Beer Kulture to learn more details about the release party closer to CiderCon®, including the time and location.
About Beer Kulture
Beer Kulture builds trust and strengthens communities by using craft beer to foster inclusion, equity and diversity. Together, we can change the world – one beer at a time. Learn more at www.beerkulture.com.
About ANXO Cider
ANXO Cider (pronounced Ahn-Cho) is a Washington, DC-based craft cidery inspired by centuries of American and European cider making culture. The idea of ANXO was first planted in the minds of Founders and Co-Owners Sam Fitz, Rachel Topelius, and Cooper Sheehan during a life-changing trip to the Basque country of Spain and the West Country of the United Kingdom where Sam was introduced to the rich history of farming and fermenting apples. ANXO's mission is to grow cider culture in the US by creating and importing the finest ciders that are the purest expressions of the apples they are made from. ANXO makes cider much like vintners make wine, embracing an #ApplesOnly approach, using apples and yeast. Fermented in stainless steel or wood vessels the resulting product is sugar and gluten free and low-carb and is as complex as wine and accessible and sessionable as beer. Learn more at https://anxocider.com/.
About the American Cider Association
The American Cider Association is an organization of cider and perry producers in the United States.  It gathers and shares information about cider production, regulations and cider apple growing to help members improve their operations, raise awareness and advance cider in the market.  The organization was founded in February 2013. Learn more at ciderassociation.org.