ACA Calls for Award Nominations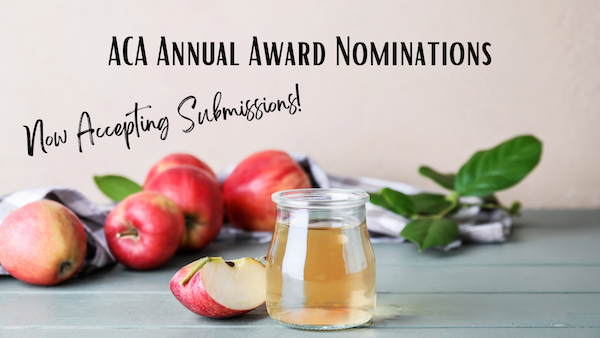 The American Cider Association is pleased to announce that we have opened nominations for the ACA Awards for folks who are doing great things for cider! We welcome your nominations for businesses and people who have been excellent ambassadors for cider in the last year.
Please nominate only one business or person per category. Businesses should not be cideries, but those who help promote cider through their support of cideries and cidermakers. Please submit your nominations by January 13, 2023. Only submissions from active members will be accepted.
We will be presenting awards in each ACA defined region in the following categories:
Best Non-Cidery Off-premise Cider Retailer in Your Region
Best Non-Cidery Cider Focused Establishment (bar, restaurant, etc.) in Your Region
Best Cider Distributor in Your Region
Pommelier of the Year (a cider tender who excels at promoting cider, cidery employees can be nominated for this award)
Awards will be presented at CiderCon® 2023!