 Join us at CiderCon® 2024!
Registration is now live for CiderCon® 2024, the premier conference for the cider industry!
The resource hub is exclusively for ACA members and is filled with items from webinars to white papers to market data reports to help our member cideries thrive.
Our expert-created cider certification program is designed for distributors, servers, sommeliers and others interested in becoming bonafide experts on all things cider.
CiderCon® is the premier cider conference for industry professionals. It is an opportunity to learn, share, taste and network. Join us in Portland, Oregon from January 16-19 for CiderCon® 2024.
About the American Cider Association
The American Cider Association is an organization of cider and perry producers in the United States. Our mission is to grow a diverse and successful U.S. cider industry by providing valuable information, resources and services to our members and by advocating on their behalf.
Cideries
The people pressing apples and fermenting the juice into delicious cider
Orchards
The farmers cultivating apples for our industry
Restaurants & Bars
The specialty establishments offering robust cider offerings
Suppliers
The suppliers supporting US cidermakers with equipment, ingredients and technology
Retailers & Distributors
The shops and wholesalers helping cider reach consumers
Enthusiasts
The die hard cider fans who help us thrive
Your Voice in DC
 The ACA advocates for cider regularly on the national level.
Cider Market Trend and Data Reports
Get access to detailed cider market reports.
CiderCon® Exclusives
 CiderCon® is a global cider conference for cider professionals and it's available at a discount to ACA members!
Webinars
Whether you're starting up or ramping up, ACA has webinars that will help you get the information you need.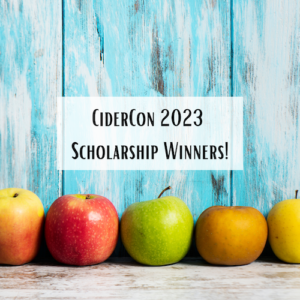 Sponsored by Yonder Cider, in collaboration with American Cider Association and Beer Kulture, the CiderCon® scholarship program returns for its…
CINA's Technical Skills Share Series Online
December 14, 2023: Flavor Trends
December 4-8, 2023
Brock University, St. Catharines, Ontario, Canada
Certified Pommelier™ Exam at CiderCon® 2024
January 17, 2024
Portland, Oregon
Oregon Cider Week
January 13-21, 2023
Oregon
CiderCon® 2024
January 16-19, 2024
Portland, Oregon
Good Manufacturing Practices for Cidery Employees (Online)
Self-directed and rolling start