CiderCon® 2020 | Oakland, California | JAN 28-31
Tentative Schedule - subject to change:
Tickets to CiderCon® will once again be $395. CiderCon® is only open to USACM Members.
Tuesday, January 28:
Cider Tours:

East Bay Area Food & Cider Tour with guide Jennie Dorsey (All Day) $125
Sonoma County Cider Tasting Tour with guide Darlene Hayes (All Day) $95
Parajo Valley and San Jose Cider Tour with guide Ria Windcaller (All Day) $90
California Apple History Panel at Filoli Gardens with guides Tom Hart & Brandon Buza (1/2 Day) $45

Elements of Style—a cider evaluation workshop with Charles McGonegal ($65)
Regional Association Leaders Symposium (Invite Only)
Wednesday, January 29
Advanced Orcharding Workshop—back by popular demand!
Research Poster Presentations - click here to submit your poster
Certified Pommelier™ Exam
Extended TTB Workshop
Opening Reception: Cider Share - register early for a chance to share your cider!
Thursday, January 30
CiderCon® Trade Show - Sponsored by Fruit Smart
CiderCon® Educational Seminars
Friday, January 31
CiderCon® Trade Show - Sponsored by Fruit Smart
CiderCon® Educational Seminars
Grand Tasting & Final Toast
---
We're excited to announce the tracks for CiderCon® 2020! 
Production & Technique (Expanded track, in partnership with CINA!)
Cider Making
Cider Blending
Cider Quality & Troubleshooting
Cider Equipment and Production Processes
New Cider R & D
Off-flavor/flaw identification
Sustainable Production
Cider Making Innovation
Sales, Distribution & Taprooms
On-premise Sales
Off-premise Sales
Distributor Relations
Selling Skills
Direct to Consumer Relations
Tap Room Management & Profitability
Sales Management
Marketing & Branding
Packaging Design
Advertising Techniques
Public Relations
Consumer relations
Co-marketing and Events
Social Media
Apples & The Orchard
Horticulture & Pomology research projects
Orcharding Techniques
Sustainable Growing Practices
Apple Variety Characteristics in Cider
Compliance, Taxes & Government Relations
TTB Topics (labels, permits, standards of fill, taxes, audits and more)
Nutrition Label Requirements
Government Affairs (policy updates, local and national)
Legal Compliance
Trade Marks
And More!
---
Volunteering at CiderCon®
We have a volunteer program open to start-up and small cideries (<25,000 gal/yr production). Volunteers trade 5+ hours of onsite support in exchange for free entrance to the conference. Please email our volunteer coordinator Woodley if you are interested in joining our team this year. She can be reached at pickcider [at] ciderassociation.org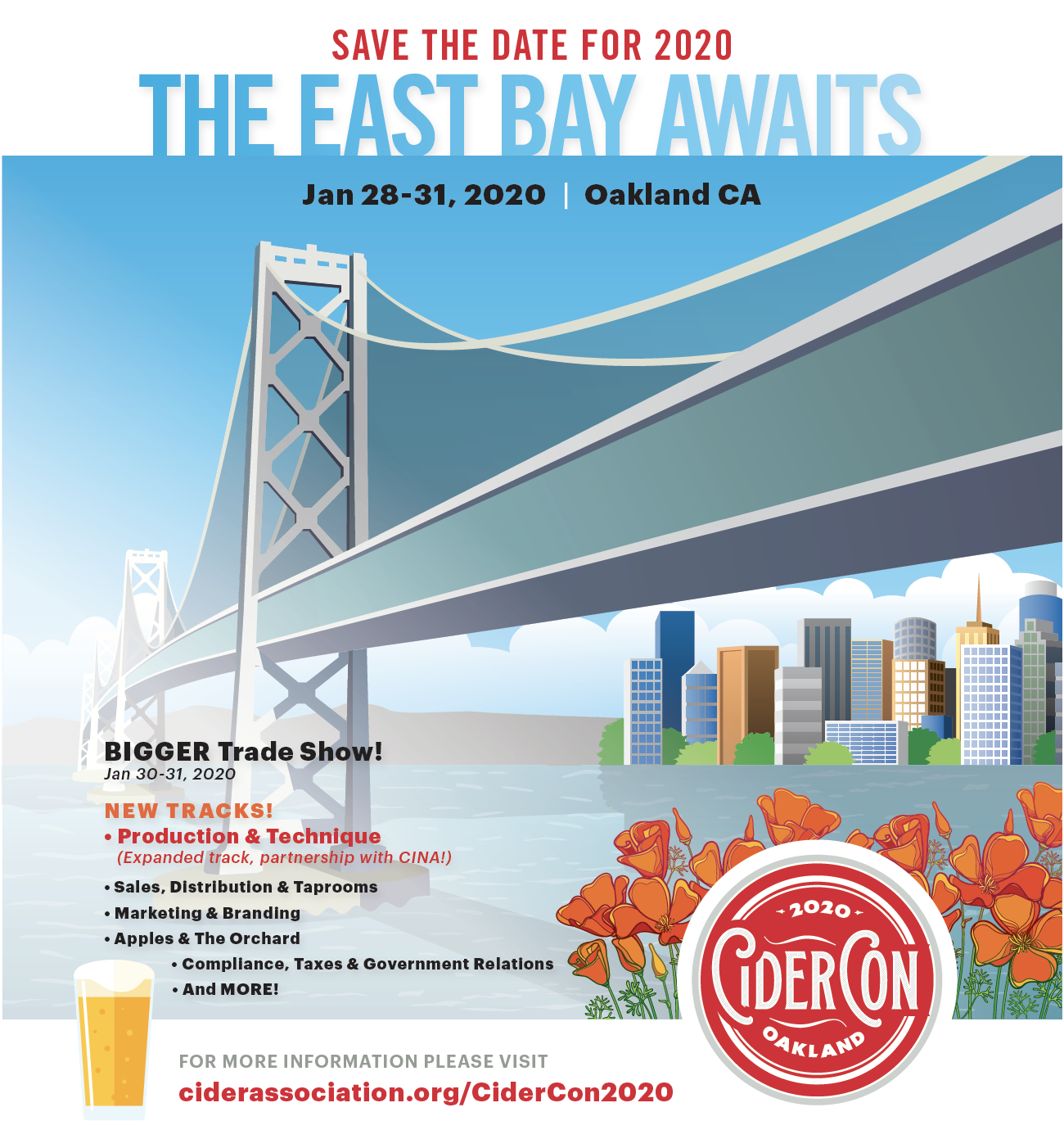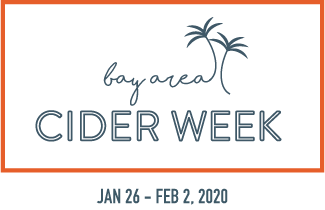 CiderCon® is proud to be part of the first Bay Area Cider Week. Join us in exploring the delicious universe of Central California cider. Explore local orchards, indulge in local cider pairing dinners, and sample all the region has to offer with tap-takeovers and more. Stay tuned for announcements as we get closer to the date!