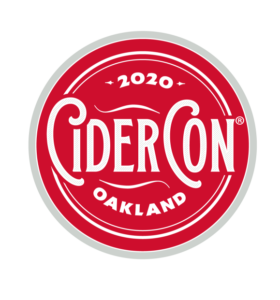 Oakland, California | JAN 28-31
Tickets during late registration for CiderCon® are $595 per person. CiderCon® is only open to American Cider Association Members.
Tuesday, January 28:
Wednesday, January 29
Thursday, January 30
Friday, January 31
---
Cancellations and Refunds
In the event of cancellation by attendee (in writing to info@ciderassociation.org with receipt acknowledged by CiderCon staff): Before December 2nd, 2019 - all fees paid less $100 for processing will be refunded.  If cancellation occurs between December 2nd, 2019 and January 3rd, 2020, 50% of fees will be refunded - the remaining 50% will be forfeited.  After January 3rd, 2020 - the full cost will be forfeited.  No refunds will be processed after this date.  
CiderCon® is proud to be part of the first Bay Area Cider Week. Join us in exploring the delicious universe of Central California cider. Explore local orchards, indulge in local cider pairing dinners, and sample all the region has to offer with tap-takeovers and more. Stay tuned for announcements as we get closer to the date!